Royal visit to France postponed because of ongoing pension reform protests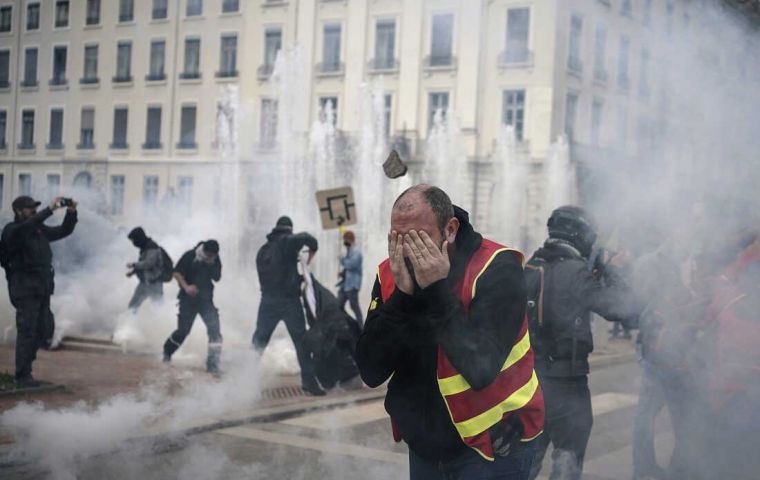 King Charles III's state visit to France has been postponed after a request by President Emmanuel Macron, Downing Street has said. The president said "we would not be sensible and would lack common sense" to go ahead after unions called a day of pension protests during the visit.
The trip to Paris and Bordeaux had been due to begin this Sunday.
But both cities were caught up in violence on Thursday, some of the worst since demonstrations began in January.
Buckingham Palace said the decision to postpone the three-day visit by Charles III and Camilla, the Queen Consort, was due to the "situation in France".
"Their Majesties greatly look forward to the opportunity to visit France as soon as dates can be found," the statement added.
President Macron said that from the moment on Thursday night when unions announced a 10th national day of action for Tuesday, two days into the state visit, he felt it would be inappropriate for the King and Camilla to travel.
"As we have considerable friendship, respect and esteem for His Majesty and the Queen Consort and the British people, I took the initiative this morning to call [the King] and explain the situation... Common sense and friendship led us to suggest a postponement."
The UK government added the decision had been "taken with the consent of all parties". Mr Macron said France had proposed moving the trip to early summer, "when things calm down again".
The decision is a significant loss of face for France and for President Macron. This was supposed to have been a showcase for France, introducing the new monarch to the best of French life and cementing a newly awakened friendship.
The president's opponents on the left and right reacted fast.
Eric Ciotti of the Republicans said the cancellation brought "shame on our country" while Jean-Luc Mélenchon on the far left was delighted the "meeting of kings at Versailles" had been broken up, adding that "the English" knew that France's interior minister was "pathetic on security".
The protests had made the trip impossible. Several French cities saw violence on the sidelines of Thursday's largely peaceful demonstrations that attracted more than a million people.
The entrance to the town hall in Bordeaux was set alight. In Paris, tear gas was fired and Interior Minister Gérald Darmanin said 903 fires were lit, in a city where refuse has been left uncollected since 6 March.
Hundreds of police officers were hurt across France, but protesters were injured by stun grenades and the Council of Europe said there was no justification for "excessive force" by authorities.
The King and Camilla were due to travel from France to Germany on Wednesday. Charles's first state visit will instead begin in Berlin.