Trump launches presidential bid in Waco, Texas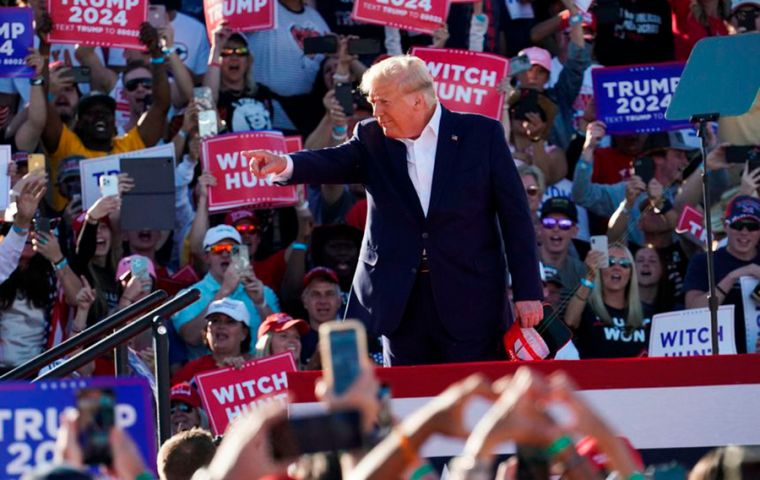 Former US President Donald Trump kicked off his campaign to return to the White House by denouncing a "witch hunt" against him during a meeting in Waco, Texas, where 30 years ago an armed cult clashed with federal authorities.
"The New York district attorney, under the auspices and direction of the 'department of injustice' in Washington DC, was investigating me for something that is not a crime, not a misdemeanor," Trump said after forecasting he would be "arrested" on March 21 por paying US$ 130,000 to porn actress Stormy Daniels to hush up an alleged affair between the two.
The case would entail a violation of the rules governing the financing of electoral campaigns and could result in a criminal charge against the 76-year-old Trump, who spoke of "one witch hunt and one bogus investigation after another."
His supporters arrived in Waco at least a day earlier in motor homes, pickup trucks, and carrying banners with the phrases "Trump 2024″ and his now-famous slogan "Make America Great Again" in this city of 130,000 south of Dallas. Another sign said Democrats "are communists."
Trump also vowed to destroy the "deep state" during his speech in the midst of the 30th anniversary of the federal siege of anti-government cult leader David Koresh's compound. "Either the deep state destroys America or we destroy the deep state," Trump insisted while referring to the current government as "the Biden regime."
"When this election is over, I will be the president of the United States," Trump declared. "You will be vindicated and proud, and the thugs and criminals who are corrupting our justice system will be defeated, discredited, and totally disgraced."
"I am your warrior. I am your justice. And I took a lot of heat for this one, but I only mean it in the proper way — for those who have been wronged and betrayed … I am your retribution," he added.
In addition to Biden, Trump targeted fellow Republican Ron DeSantis, whom he helped him win the Florida governorship in 2018. "Florida has been tremendously successful for many years, long before this guy became governor," Trump said. "Florida has been successful for decades."
"He's got no personality. That tends to be bad for a politician," Trump added while insisting that had he not helped him become governor he would be "probably working at a cigar store or a law firm."
Trump also said Saturday that his "enemies are desperate to stop us," and "our opponents have done everything they can to crush our spirit and to break our will ... But they failed."
"They've only made us stronger. And 2024 is the final battle, it's going to be the big one. You put me back in the White House, their reign will be over and America will be a free nation once again."
Trump held his rally at the airport grounds in Waco as the city marked the 30th anniversary of a raid by federal agents on the Branch Davidians religious sect there that resulted in 86 deaths, including four law enforcement officers. Many right-wing extremists see the raid as a seminal moment of government overreach, and critics saw the rally's timing as a nod to Trump's far-right supporters.
However, a spokesperson for Trump's team said the site, 27 kilometers (17 miles) from the Branch Davidian compound, was chosen because it was conveniently situated near four of the state's biggest metropolitan areas — Dallas/Fort Worth, Houston, Austin, and San Antonio — and has the infrastructure to handle a sizable crowd.