Nashville massacre perpetrator's mother was gun ban advocate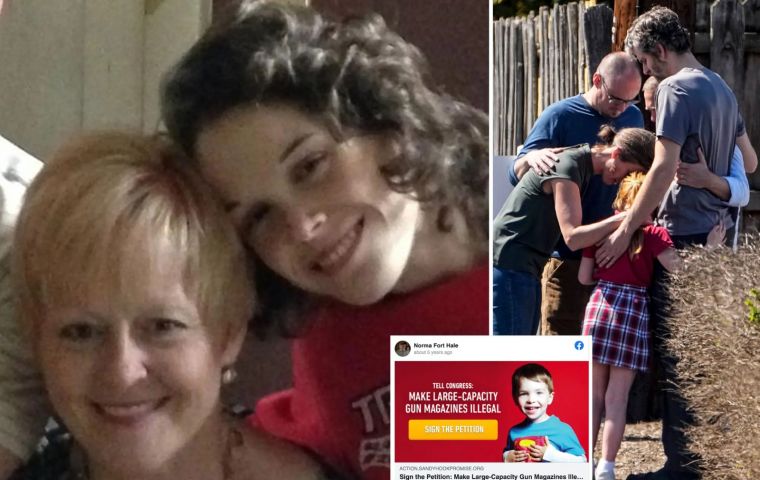 Norma Hale, the mother of Audrey Hale, the 28-year-old transgender woman gunned down in Nashville, Tennessee, after killing 6 people in a shooting spree, is a longstanding gun control activist who has shared on her Facebook account a collection of signatures to keep firearms away from schools and ban the sale of high-capacity magazines.
In recent years, Mrs. Hale posted several photographs with Audrey and her other child always pondering how wonderful they both were,
"This is basically a goodbye note, I hope to die today; you will probably hear from me after I die," Audrey messaged her former basketball teammate Averianna Patton a few minutes before entering the school and opening fire. "This is my last goodbye, I love you guys, we'll see each other again in another life."
"We have not yet been able to determine a motive, it may have been because of some past grudge; the investigation is still ongoing, Nashville Metro Police Chief John Drake told ABC News.
Drake said Hale legally purchased at least seven guns from five different stores in Nashville, three of which were used in the massacre. Audrey's parents decided to sell one of those guns, unaware that there were six others in the home.
Drake also stated that the victims were attacked at random, while CNN affirmed that Hale was not looking for any particular target. The police spokesman also said the perpetrator had received treatment for her emotional disorders but such a fact had been concealed from authorities.
The Metro Nashville Police Department had said in a previous statement that a call came in concerning shots fired at the school at 10.13 am.
"We have a manifesto. We have some writings that we're going over that pertain to this day and the actual incident. We have a map drawn out about how this was all going to take place," Drake told reporters. "I was literally moved to tears to see this as the kids were being ushered out of the building," Drake said. "It could have been far worse."
A search warrant executed at Hale's Brightwood Avenue residence produced a sawed-off shotgun, a second shotgun, and "other evidence," police said.
"Writings recovered from Hale revealed that her attack was calculated and planned," the department said.
Meanwhile, Twitter suspended Republican Congresswoman Marjorie Taylor Greene's official account after speaking of "Trans Day of Vengeance" in a posting.
"After 3000 RTs of this tweet, my account was suspended AGAIN. Why is Twitter whitewashing the 'Trans Day of Vengeance,' [Elon Musk]?" Greene tweeted.
"A day after a mass murder of children by a trans shooter? The people need to know about the threat they face from Antifa and trans-terrorism!!!" Greene added, according to Newsweek.
Twitter said it has locked the group account of Our Rights DC, which is organizing the "Trans Day of Vengeance" rally scheduled for Saturday. "We had to automatically sweep our platform and remove >5,000 tweets/retweets of this poster," wrote Ella Irwin, Twitter's head of trust and safety.
"We do not support tweets that incite violence irrespective of who posts them. 'Vengeance' does not imply peaceful protest," Irwin added.