Von der Leyen says Mercosur deal a priority but Argentina warns "not so fast"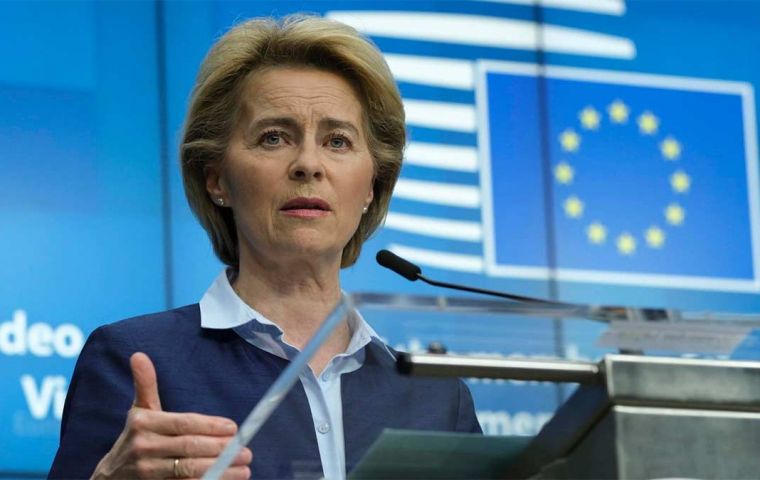 European Commission President Ursula von der Leyen said the agreement with Mercosur was a priority, but Argentina's government has second thoughts about the advantages it would actually entail, it was reported Thursday.
"We will concentrate on free trade agreements where we don't have one yet, such as with New Zealand, Australia, India, and our Asean and Mercosur partners," von der Leyen said. Brussels will also work to improve and modernize existing agreements, such as those with Mexico and China, it was explained.
"We will strengthen cooperation in sectors such as digital and clean technology, through the Council for Trade and Technology with India or the EU-Japan," von der Leyen went on.
"In addition, we will invest in infrastructure through the Global Gateway strategy. We are offering developing countries a real opportunity to finance infrastructure," she added.
Von der Leyen is due in Buenos Aires on April 14 to discuss these issues while seeking to introduce a sustainable development "additional instrument" for the agreement to match what Europe already has in its legislation.
Rupert Schlegelmilch, the European Union's emissary for Trade and Agriculture has been holding together with European Ambassador Amador Sánchez Rico a series of meetings in the Argentine capital with high-ranking officials from the local government and also from Paraguay, Brazil, and Uruguay. Argentina currently holds the pro-tempore presidency of Mercosur.
In this scenario, Cabinet Chief Agustín Rossi has warned the Argentine Congress about the "unilateral demands" Europe seeks to introduce, which would entail "millionaire losses" if implemented and Argentina's government finds that these changes "could affect the concessions already negotiated in the Agreement" and dismissed the possibility that all this will be negotiated at the Celac-EU heads of state summit in Belgium next June, Rossi's "Report 135" to the Lower House noted.
"The Ministry of Foreign Affairs reports that since the closing of the agreement in principle in July 2019, the EU has raised a series of new measures and unilateral demands that have delayed the progress of the negotiations," Rossi stated.
Among these measures is the so-called "Green Pact", a regulatory package through which the EU seeks to implement reforms in areas such as energy, land use, deforestation and emissions, which, according to Mercosur, "could affect the concessions already negotiated in the Agreement."
These regulations with new requirements, which will be applied to companies from EU member countries, will also have an impact on the rest of non-EU suppliers, including Mercosur companies, according to Buenos Aires.
"If the regulation currently being drafted by the EU is approved, Argentina could lose its biodiesel exports to these countries, which last year amounted to US$ 1,850 and represented 17% of the total exported by our country to said block," Report 135 went on.
According to Rossi, this proposal is being analyzed in consultations with the Mercosur Party States so that its text "contemplates the interests of both blocs and a shared vision on sustainable development".
Rossi also highlighted that "doubts remain about the so-called "architecture of the agreement" now proposed by the EU.
For the President Alberto Fernandez administration, these new proposals by the European Union "could affect Argentine companies that use certain geographical indications for their products."
Rossi said Argentina and its partners were closely following these issues and considering possible "courses of action to follow"