Uruguay's Capitán Miranda sets sail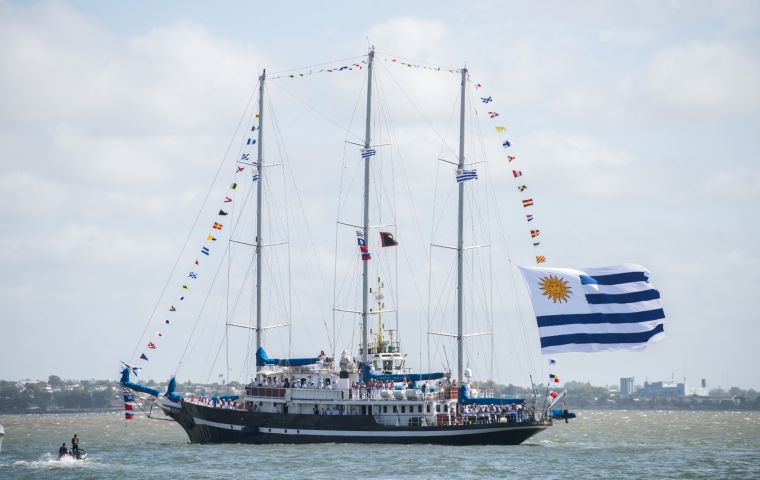 Uruguay's Schoolship ROU 20 Capitán Miranda is back on a training journey. Law 20,120 dated March 24, 2023, authorized the vessel's departure "in order to carry out the 'XXXIII Training Trip'." The sailing ship will visit 19 cities in America and Europe where the crew will promote the country's tourism.
Attending the farewell ceremony were Vice President Beatriz Argimón, Presidential Secretary Álvaro Delgado, and Montevideo Mayor Carolina Cosse, among other authorities.
Montevideo's City Council announced on social media that the Miranda crew had been supplied with materials to promote the Uruguayan capital as a tourism destination at the 19 ports it plans to make calls.
The 83-staffed ship is due back on Oct. 31 after visiting ports in the following countries: Brazil, Puerto Rico, United States, France, Germany, Netherlands, England, Norway, Spain, and Portugal.
The Capitán Miranda served as a vessel for oceanographic research and the making and preparation of nautical charts, after which she became a training ship in 1977.
Built in 1930 at the Spanish Shipyard of Matagorda (then part of the Sociedad Española de Construcción Naval), the ship was named after Captain Francisco Prudencio Miranda, an Uruguayan sailor, hydrographer, historian, professor, and writer.
The Capitán Miranda made her XXIX training voyages in April 2011, after which she underwent major repairs since April 2013. She returned to the sea for her XXX mission in 2018.