Brazil's return to Unasur announced
Saturday, April 8th 2023 - 10:13 UTC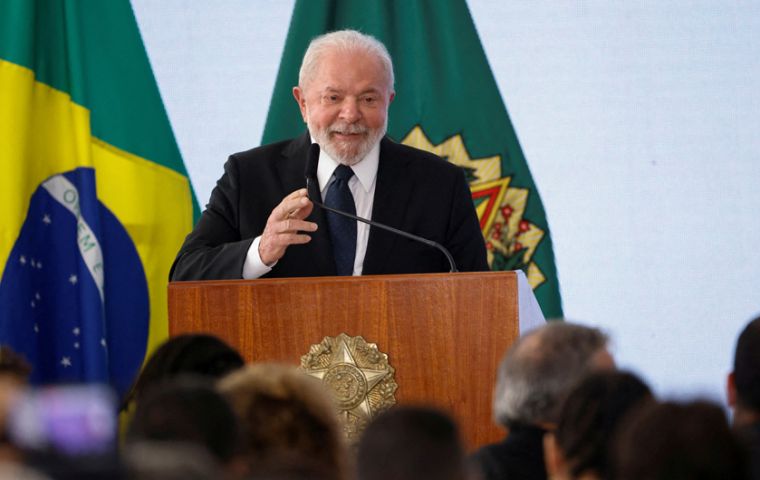 Brazil's government announced the return of South America's largest country to the Union of South American Nations (Unasur) through a Presidential Decree from President Luiz Inàcio Lula da Silva published Friday in the Official Gazette to become effective in 30 days.
Former President Jair Bolsonaro had withdrawn from the bloc in 2019 while creating the Forum for the Progress of South America (Prosul), with Argentina, Chile, Colombia, Ecuador, Guyana, Paraguay, and Peru.
The Unasur had been established in May 2008 by Argentina, Bolivia, Brazil, Chile, Colombia, Ecuador, Guyana, Paraguay, Peru, Suriname, Uruguay, and Venezuela.
Read also: Argentina officially rejoins Unasur to play a leading role in its "revitalization"
The Lula administration argued that in 2010, Unasur was composed of 12 South American states with a population of almost 400 million. Since then, some countries withdrew from Unasur, mainly due to political divergences.
Argentina also announced this week its return to Unasur, which currently features Bolivia, Guyana, Suriname, and Venezuela, in addition to Peru (suspended).
"It is not possible to imagine a rich country surrounded by poor people on all sides. Brazil, as the big brother of the South American countries, must have the responsibility to make the others grow with us," Lula had said last month.
Argentine President Alberto Fernández celebrated Brazil's return: "We are back to strengthen regional unity," he posted on social media a day after his own country made the same decision.
"I share with the president of Brazil, my dear friend @LulaOficial, the pride of being South Americans," wrote Fernàndez, who added that "we return together to @unasur to decisively strengthen regional unity and adapt it to the new challenges of social and economic development."