Lula reviews cities hit by floods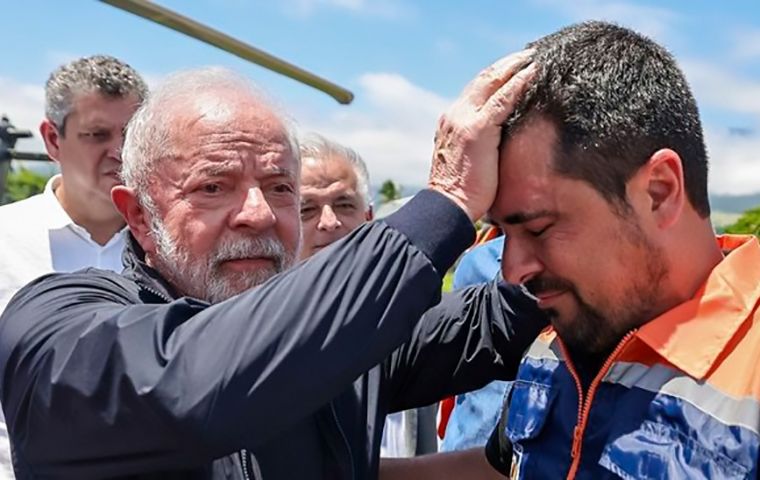 Brazilian President Luiz Inácio Lula da Silva Sunday flew over 53 cities declared under emergency due to rains. The head of state also called for the speedy approval of popular housing plans to assist the victims. Joining Lula were Ministers Flávio Dino (Justice) and Paulo Pimenta (Secom).
Lula focused on the northeastern State of Maranhão, one of the poorest in the country, where he visited a shelter in the municipality of Bacabal. He recalled that when he was 19 years old he spent several nights in such camps due to the flooding of his house in São Paulo.
"I already lived in neighborhoods where the water rose up to a meter and a half and you woke up with cockroaches, mice, and leeches on your calf. That's why I know what this town goes through (...). And there is no time to take out the furniture, the things," Lula told reporters.
"I am going to be seven or eight days outside (Brazil) and I could not travel to another country without visiting the Brazilian states that are having problems due to the floods. And Maranhão is the state with the most difficult situation right now," said Lula who is to depart on a trip to China and the United Arab Emirates this week.
On Easter Day and on the eve of his first 100 days in office for the third time, Lula asked for the "union" of governors, mayors, politicians, and society to carry out his popular housing solutions and avoid more disasters due to the rains, which have intensified since March and have so far left six dead and almost 36,000 families affected, of which 7,500 had to leave their homes due to flooding and landslides.
"The Minister of Cities [Jader Filho] is here listening to me. In the construction projects of new houses, we need to convince people that it is not possible to build a house in a place that we know will flood," Lula was quoted as saying by Agencia Brasil during a press conference with Maranhão Governor Carlos Brandão, at Bacabal's Regional Airport.
"In 2009 I came here in Bacabal in a flood, Roseana [Sarney] was governor and I was here in the same river, in the same flood. It is a demonstration that when you live near the river there is no way, you will suffer flooding when the rain is too much", added the president.
Some communities have been isolated and access to them is only possible by boat or helicopter after several rivers overflowed their banks.
In March, the federal government allocated R$ 3.8 million reais (around US$ 760,000) for the family food baskets and popular restaurants that serve the shelters of victims in more than twenty municipalities.