School violence: Family arrested in Brazil with Nazi paraphernalia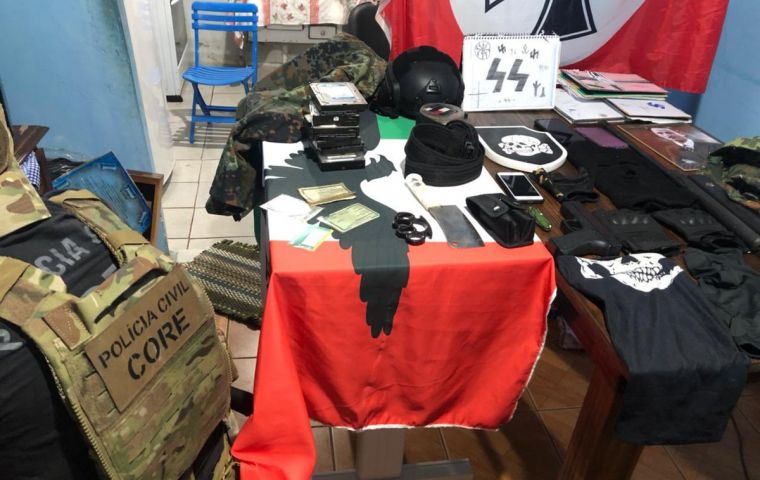 Brazilin authorities have arrested a family linked to pro-Nazi activities in the investigations on school violence undertaken after last week's episodes. A 14-year-old boy was among those apprehended.
A few days after four children were stabbed to death in a kindergarten, a 14-year-old teenager and his parents were arrested on charges of "terrorism through the apology of Nazism," and because the minor had planned an attack on a school in the city of Maquiné, in Rio Grande do Sul, it was reported. The arrest was the result of intelligence work on social media.
Commissioner Marco Souza said the parents were arrested because it was considered that "they could not be unaware of what was happening with all the Nazi material that the teenager had in his room", in addition to the fact that a swastika flag had been given by the father to the son on his birthday.
Meanwhile, in a separate event this week, a 13-year-old boy broke into a public school in Goias with a ski mask and several bladed weapons, injuring three pupils. According to preliminary reports, the perpetrator was being bullied. He was taken into custody.
"Thanks to the intervention of professionals and the quick and effective action of Military Police officers, the teenager was detained," the Military Police said in a statement.
The assailant broke into the school with a "balaclava, knife, an axe, and other materials," Police Spokesman Stanislao Mont'Serra Garcia was quoted by Folha de Sao Paulo as saying.
"He entered the school, threw a firecracker in a classroom, and, with the roar, his classmates went out into the hallway, at which point he began to stab and hit three classmates," he explained.
Then the young man chased a teacher who managed to lock herself in a room. Finally, a cleaning assistant arrested him.
This event took place a week after a 25-year-old man entered a kindergarten in Blumenau with an axe and killed four children.