Uruguayan FM off to China in search of FTA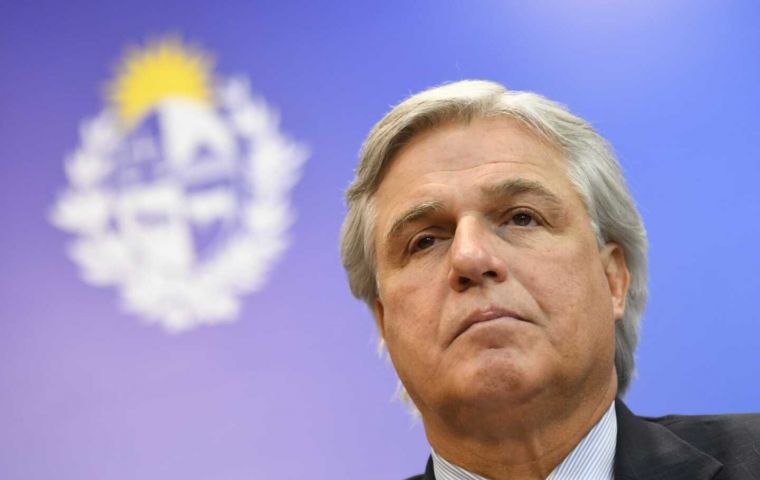 Uruguay's Foreign Minister Francisco Bustillo is leaving shortly for China on a mission to narrow the gap for the South American country to reach a Free Trade Agreement with the Asian giant, it was reported in Montevideo.
"This is a permanent construction, which we inherited from previous governments," Bustilllo said Wednesday during a press conference after meeting with President Luis Lacalle Pou.
"We simply hope to hand over the baton closer to the goal. Which is none other than the aspiration, in terms of trade, of signing a free trade agreement with China," he added.
Bustillo explained that the government's efforts to sign an FTA are part of a path that has been going on for more than three decades. "What it is about is to continue strengthening the relationship, deepening it, and I think this could be a very good instance," the minister added.
Regarding Brazilian President Luiz Inácio Lula da Silva's current trip to China, Bustillo said it may also serve to "join efforts and continue advancing" on the road to achieving an FTA involving Mercosur and not only Uruguay.
Meanwhile, Uruguay's Agriculture and Livestock Minister Fernando Mattos met in Montevideo Wednesday with China's National Administration of Food and Strategic Reserves of China Chief Jia Quian. Mattos is also to travel to China next month to meet with local sanitary authorities to seek clearance for the export of poultry meat and meat by-products such as tripe and tongue. Wednesday's visit allowed Quian to learn about Uruguay's production, storage, and trade of different types of grains.
Mattos said that in addition to the protocols already signed to export sorghum and barley, there is the possible introduction of rapeseed among the goods shipped to the country that buys 60% of Uruguay's grain exports. Mattos also explained that Uruguay will seek to export wheat, lemons, and honey, among other products, to China. In addition, on April 24 and 25, the minister will meet with representatives of the General Administration of Customs of China.
In July 2022, President Luis Lacalle Pou informed that Uruguay and China completed the feasibility studies for a Free Trade Agreement between the two countries.