Argentina: "Blue" dollar hits psychological AR$ 400 mark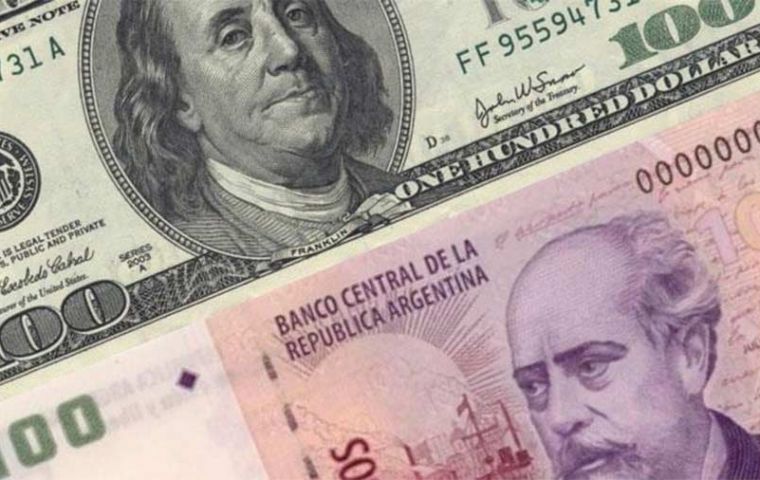 The unofficial exchange rate known as "blue" (a euphemism for "black market") between the Argentine peso and the US dollar crossed the psychological US$ 1 / AR$ 400 barrier Thursday just a few days after the "agro" rate was implemented in a move to curb the volatile parity.
Economy Minister Sergio Massa's move managed to slow down the surge of the US currency for a while but after the first exchange transactions at AR$ 300 / US$ 1 for agricultural products exporters and despite efforts from the Central Bank, the new increase turned inevitable
So far in 2023, the blue rate has increased by AR$ 54, or 15%, which remains way behind the country's 21% inflation.
"Nothing has changed, the outlook is the same. The movement is the usual one with an upward trend," a foreign exchange trader was quoted as saying early Thursday.
According to Argentine media, the greenback sold for AR$ 403 to 404 in some provinces.
Other dollar quotations also went up Thursday, but the devaluation of the official rate was only 0.07% to stand at AR$ 221.61. Thus, the savings dollar went to $ 365.66 and the dollar for card payments abroad was at $ 387.82 (tourist, for purchases under U$S 300) and at $ 443.22 (Qatar, for purchases over U$S 300).
The wholesale dollar rose 0.21% to $ 214.68 and the bill at Banco Nación was quoted at $ 220.75.
The Central Bank bought 332 million agro dollars, thus reducing its deficit for the month to US$ 181 million and for the year to US$ 3,159 million.