China to open new opportunities for Brazil, Xi tells Lula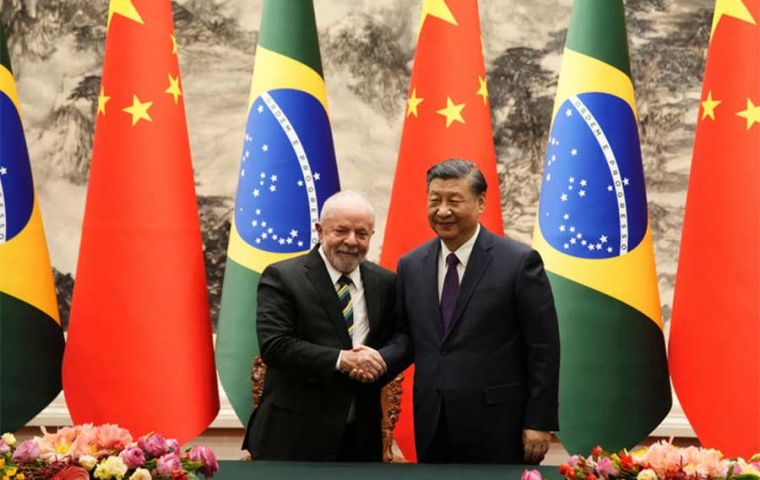 Brazilian President Luiz Inácio Lula Da Silva was offered a grand welcome by his Chinese colleague Xi Jinping as both leaders set out the guidelines for a partnership that will undoubtedly play a role in world events. China "will open new opportunities for Brazil," Xi said.
"China will pursue high-quality development, accelerate the creation of a new development paradigm and promote high-level openness. This will open up new opportunities for Brazil and countries around the world," read a statement from Beijing's Ministry of Foreign Affairs.
The day before, Lula had questioned both the US dollar as a global currency and the way the International Monetary Fund (IMF) was suffocating Argentina. Lula resumed his anti-US path Friday by insisting that "nobody is going to prohibit Brazil from improving its relationship with China," whose investments in Brazil are expected to reach US$ 50 billion in the long term.
"China places relations with Brazil at a priority place in our foreign relations. You are our old friend and a good friend. It was with your attention and support that China-Brazil relations achieved a great leap," Xi said.
Earlier Friday, during a meeting with People's Assembly (parliament) Speaker Zhao Leji, Lula assured that world geopolitics must change supported by both China and Brazil and insisted on trading in local currencies leaving aside the dollar.
"It is together with China that we have been trying to balance world geopolitics, discussing the most important issues," Lula said. "We want to raise the level of the strategic partnership between our countries, expand trade flows and, together with China, balance world geopolitics," he added.
In 2009, during Lula's second consecutive term in office, China displaced the United States as Brazil's main trading partner, and since then the relationship has been growing with the export profile of raw materials, which is why Lula said he was looking for investments to create value-added innovations on Brazilian soil.
In his open speech to the press, Lula spoke of intensifying Brazil-China relations in areas such as science and technology, student exchange programs, cultural relations, climate change fighting strategies, clean energy, and the production of cars and electric buses.
"I think my government's understanding of China is that we must work hard to create a Brazil-China relationship that is not just a relationship of merely commercial interest. Although the commercial interest is very important," said Lula.
"We count on China in our fight to preserve planet Earth, advocating for a healthier climate policy in which people can breathe cleaner air and drink cleaner water. For this, an energy transition is extremely important so that we can produce cleaner energy, especially wind, solar, [and] biomass," Lula said.
"Brazil has 80% of its energy totally clean and is committed at this moment, in my government, to achieve by 2030 zero deforestation in the Amazon to make our contribution to the preservation of the planet," he went on.
Lula also took advantage of the speech to thank China for its support for the election of former President Dilma Rousseff as head of the BRICS' New Development Bank (NDB).
According to local media, the reception given to Lula was the most important in terms of people deployment since the restrictive measures of the coronavirus pandemic.
The summit between Lula and Xi resulted in the signing of 15 agreements between both governments and 20 others among private companies. Both leaders also agreed to form a "peace club" to stop the war in Ukraine.
Meanwhile, at the Brazilian Embassy, Finance Minister, Fernando Haddad, confirmed that the possibility of carrying out commercial transactions in local currencies was being studied. "The idea of carrying out commercial exchanges in our own currencies, without resorting to third-party currencies [namely the US-dollar], is something that has been on the negotiating table for a long time," among BRICS and also Mercosur countries.
Haddad also denied any uneasiness on the part of Washington about Lula's trip to China. The minister stressed that the Brazilian government "has no intention of distancing itself from any trading partner."
"We are making an effort to get closer, we want US investment in Brazil. In fact, we are almost living a moment of disinvestment, since some US companies stopped operating in Brazil in the previous government. We want to re-establish the best relations," Haddad said.