Argentine Cabinet Chief admits war against inflation is being lost
Sunday, April 16th 2023 - 23:28 UTC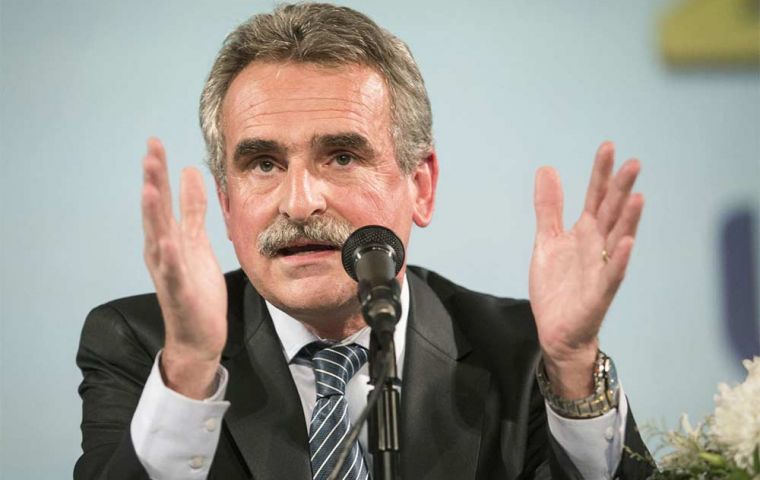 Argentina's Cabinet Chief Agustín Rossi admitted the administration of President Alberto Fernández was losing the battle with inflation. "We thought we were getting there, but we weren't," Rossi was quoted as saying by local media. "Nobody can be happy, least of all us", he added.
The National Institute of Statistics and Census (Indec) announced Friday that inflation for March of 2023 had reached 7.7%, the highest since the beginning of the Frente de Todos government. It also meant a 21.7% increase in the Consumer Price Index (CPI) for the first quarter of 2023 and an interannual inflation of 104.3%.
"This is clearly not the inflation result we expected, nor does it go in the direction of the effort we have been sustaining to find a downward path. Nobody can be happy, least of all us, with this inflation indicator", Rossi said Saturday in a radio interview.
"We have [an] inflation that has been traveling at a high rate. When seasonal issues are added to this trip, it clearly ends up generating a number of these characteristics that the only thing it does is challenge us to go in search of this downward path. We thought that, in the last quarter of last year, we were achieving it, but this was not the case in the first, second, or third month of the year," Rossi added.
"We have an assessment of what happened in January: In the first fortnight of January, prices moved at the same level as in December and November, and then, in the second fortnight, prices began to accelerate as the market took note of the negative effect that the drought was going to have on reserves," he went on.
In December, monthly inflation was 5.1%. In January it rose to 6.0% (with a strong impact on food prices, which increased by 9.8%). In February, it rose again by 6.6%.
"We are Peronists, our goal is to generate work, and that it is well paid so that Argentines live well. We will not give up and we will continue to fight together with the Minister of Economy [Sergio Massa]," Rossi also pointed out.
"If a lady coming out of the supermarket meets me and criticizes me because she did not have enough money to fill her shopping cart, the only thing I have to do is to apologize to her. Now, what I cannot admit is that those who criticize me are the ones who generated the problem that brought us here," Rossi elaborated.
Regarding this year's presidential elections and a possible victory by the opposition Together for Change (Juntos por el Cambio - JxC) coalition, Rossi said that it would only bring on more inflation. "When you read what they say clearly the only thing they propose is more devaluation, more inflation, and more poverty. Removing retentions [export taxes], unifying the exchange rate... That is more devaluation. They will double inflation, triple poverty..."