Ukraine rejects Lula's peace initiative to end the Kyiv/Moscow conflict
Monday, April 17th 2023 - 15:52 UTC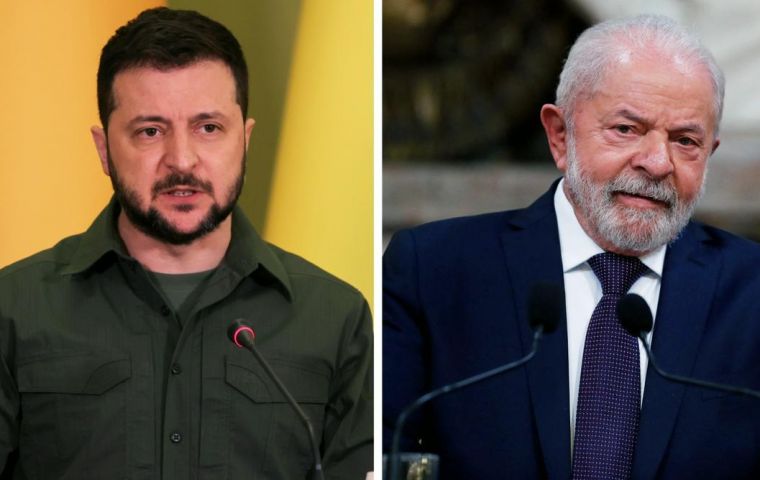 Ukraine, arguing sovereignty and territorial integrity has rejected a peace plan proposed by former Brazilian President Lula da Silva, stating that they will not renounce Crimea. Lula's proposal involved the withdrawal of Russian troops from Ukraine and the establishment of an autonomous region in the Donbass region.
Ukrainian officials rejected the proposal, stating that they would not renounce Crimea, which was annexed by Russia in 2014.
"There is no legal, political or moral reason that would justify us having to yield even a centimeter of Ukrainian land," Ukrainian foreign ministry spokesman Oleg Nikolenko said on Facebook.
"Any mediation efforts to restore peace in Ukraine should be based on respect for the sovereignty and the full restoration of Ukraine's territorial integrity," he added.
Last Thursday, Lula said Ukrainian President Volodymyr Zelensky "could not get everything" and suggested Ukraine could give up Crimea to begin peace discussions.
Lula has proposed creating a group of countries to mediate in the war in Ukraine. The Brazilian leader said he was "confident" that this 'peace' group "would be created" after his trip.
Russia has repeatedly said that peace negotiations were not on the table at this stage and vowed to continue its offensive. Foreign Minister Sergei Lavrov said negotiations would be possible only if they included the establishment of a "new world order" without US hegemony.