Argentine Defense Minister holds meeting with US Southern Command's chief
Tuesday, April 18th 2023 - 10:55 UTC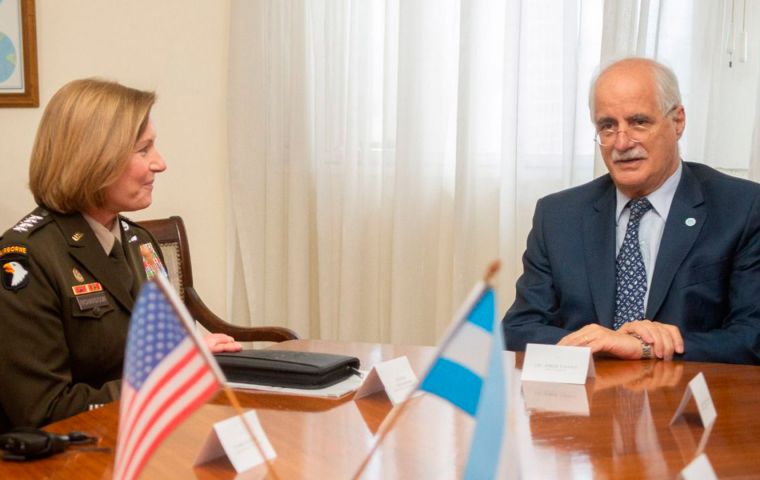 Argentina's Defense Minister Jorge Taiana met Monday with General Laura Richardson, head of the US Southern Command, to discuss bilateral issues.
"Today with General Laura Richardson, head of the @Southcom we talked about several issues regarding Defense. The bilateral agreements in force, the hierarchy of the Armed Forces, military equipment, and the strategic priority that Argentina assigns to the South Atlantic," Taiana reported on his Twitter account about the meeting.
The Southern Command is a Pentagon unit created to defend the interests of the United States in the region. Taiana's meeting with Richardson took place at a time when there are events that are closely followed by Washington with concern, such as the meeting between Russian Foreign Minister Sergei Lavrov and Brazilian President Luiz Inácio Lula Da Silva. In this scenario, Argentine Foreign Ministry sources quoted by local media insisted there was no trip planned by Lavrov to Buenos Aires.
Richardson also met with Argentine Armed Forces Joint Chief of Staff General Juan Martín Paleo.
"In Argentina, #SOUTHCOM Commander Gen. Laura Richardson and Argentine Armed Forces Joint Command Chief Gen. Juan Martin Paleo met to discuss security cooperation. Argentina is a key contributor to regional security and global peacekeeping," the Pentagon unit reported on Twitter.
Taiana and Richardson discussed current bilateral agreements, military equipment, and Argentina's role in the region, it was reported.
Richardson's presence in Argentina has placed far-left organizations on alert: the Encuentro Patriótico (EP) and the Bloque Social por el Trabajo (Social Block for Labor) staged a protest before the Ministry of Social Development "in rejection of the policies planned by the IMF for Argentina and the region" and then moved towards the Ministry of Defense to express their opposition to Gen. Richardson's presence in the country.
These organizations said that Richardson "is the one who has exposed in multiple speeches the neocolonialist strategy of the United States to appropriate the common goods of our Patria Grande" while underlining that the intention of the US concerning the natural wealth of Argentina and Latin America was "to put them at the service of its supply chains and to stop the collapse of its imperial arrogance."
Fernando Esteche, former leader of the Quebracho organization and current leader of Encuentro Patriótico and of the Milagro Sala Front, stated to Télam that "everything indicates that the political leadership is returning to the carnal relations of the 90s. The reaction of the nationalist anti-imperialist militancy will naturally be to confront such intention."