Argentine fishing research campaign in South Georgia Islands completed
Friday, April 7th 2023 - 10:19 UTC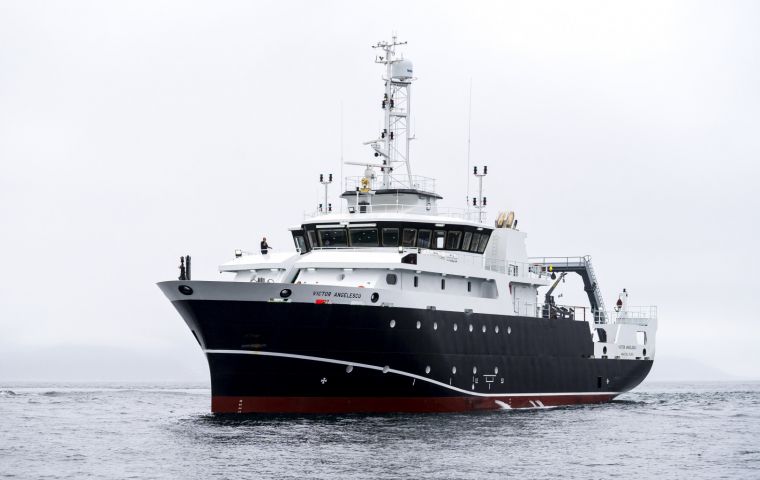 A research expedition in the South Atlantic to further explore the oceanographic fishing scenario around the South Georgia Islands ended "satisfactorily" despite the "extreme" hydro-meteorological, environmental, and topographic conditions of the area, the Argentine Foreign Ministry and the Ministry of Science, Technology, and Innovation (MINCyT) announced this week.
The campaign was carried out between February 27 and April 3, 2023, aboard the Oceanographic Fishing Research Vessel (BIPO) Victor Angelescu, of the National Institute of Fisheries Research and Development (Inidep) to "survey the abundance of juvenile Patagonian toothfish and other demersal species on the platforms of the South Georgia Islands, and the Cormorant and Black Rocks," the Argentine authorities said in a statement.
Specialists from Inidep and the Argentine Antarctic Institute (IAA) studied various aspects of the ecosystem of the sub-Antarctic island shelves, such as the fish and benthic invertebrate community, zooplankton, bacterioplankton, and phytoplankton, they detailed.
They also carried out a study of the marine environment, based on the characterization of the water masses, the distribution of nutrients, and the variables associated with ocean acidification processes, they added.
The data collected "will allow reinforcing scientific knowledge on the species that inhabit the area, and adding information on fish populations that will contribute to the sustainability of the Patagonian toothfish (Dissostichus eleginoides) fishery in South Georgia, which is regulated by the Ccrvma", they explained.
The expedition was a joint undertaking by the Foreign and Science Ministries and it also involved the Economy Ministry's Secretariat of Agriculture, Livestock, and Fisheries through Inidep, under the Science Ministry-sponsored inter-ministerial Pampa Azul Initiative regarding scientific support to national ocean policies.
The study was carried out within the framework of the Convention on the Conservation of Antarctic Marine Living Resources (CCAMLR), of which Argentina is a founding party.
"The campaign was carried out satisfactorily considering the extreme hydrometeorological conditions, the environmental and topographic characteristics of the area," both ministries said. They also underlined that "the capacities of the vessel and the equipment used and the commitment and efficiency of the crew contributed to the success of the task, carrying out fishing and environmental research activities in the waters of the sub-Antarctic insular sectors of our country."
The expedition was in line with the provisions of Decree 2316/90 on national Antarctic policy, which assigns priority to scientific research related to knowledge of the environment and fishing resources in order to promote their conservation, they concluded. (Source: Telam)