Argentine peso keeps sinking against US dollar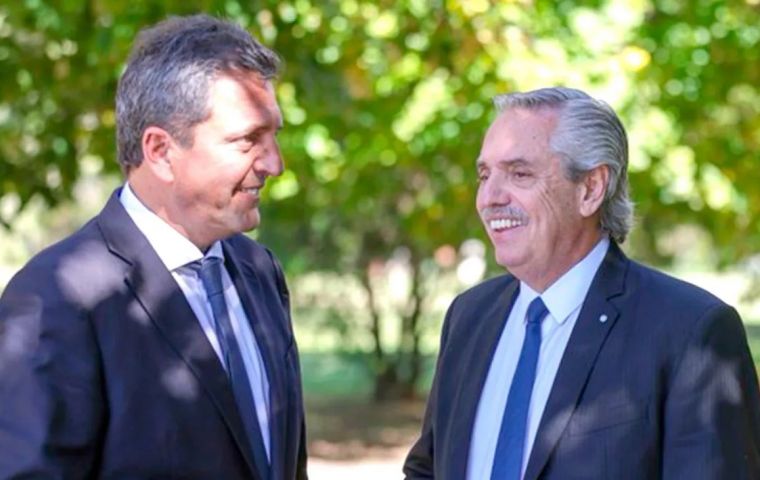 The Argentine peso kept sinking Thursday against the US dollar with the "blue" (a euphemism for "black market") rate hitting AR$ 440 before closing at AR$ 437/AR$ 432 (buy/sale).
In this scenario, Economy Minister Sergio Massa paid a visit to President Alberto Fernández at the Olivos residence to get photographed together and convey a picture of unity within the federal government, it was reported in Buenos Aires. Presidential Spokeswoman Gabriela Cerruti took care of disseminating those pictures.
The gap with the "official" dollar is 98.16%, it was also reported. It traded at AR$ 216.50 / $224.50 (buy/sale).
However negative it might have looked, the Central Bank (BCRA) resumed its positive balance with purchases for US$ 44 million.
After the agricultural sector liquidated US$ 170 million, Fernández and Massa were reported to be laughing at rumors of a political crisis, although some differences between them are believed to exist. At the end of the meeting, the blue dollar stood at AR$ 440, or AR$ 17 more than the previous day. Then it started decelerating after it became evident that Massa was nowhere near quitting his job. "It is a closed issue, there is no more noise, we are moving forward," an Economy Ministry source was quoted as saying.
Also Thursday, the BCRA raised the monetary policy rate by 300 basis points. Thus, the annual interest rate for fixed terms and bills of exchange was 81 % in a move to discourage holders of pesos from buying more dollars.
Massa and Central Bank President Miguel Psce met later Thursday to discuss the G20 summits held within the framework of the International Monetary Fund (IMF) and the World Bank (WB) Assembly held in the past few days in Washington, as well as "the recent measures taken by the BCRA Board of Directors to order the payment of service imports."