Moscow warns Ukraine's Black Sea "export channel" conditioned by West obstacles to Russian trade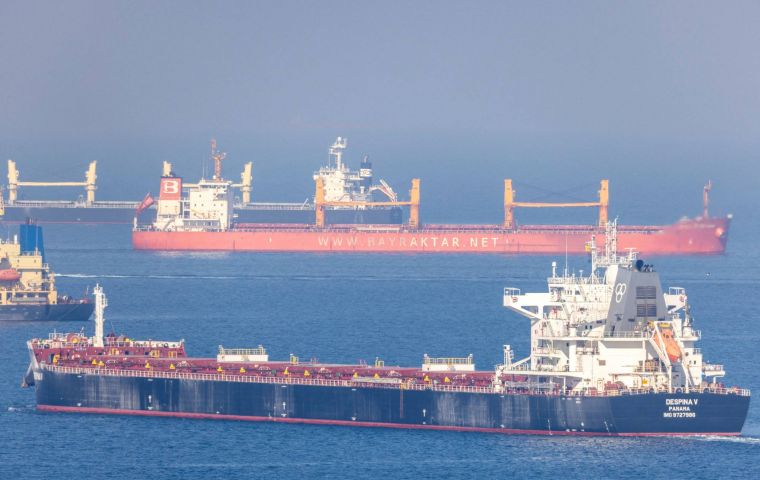 Moscow warned that the outlook for extending a deal beyond May 18 that allows the safe wartime export of grain and fertilizer from several Ukrainian Black Sea ports was "not great" as Russia's own such exports still faced obstacles.
The Ukraine grain Black Sea export deal was brokered by the United Nations and Turkey in July last year to help tackle a global food crisis that U.N. officials said had been worsened by the most deadly war in Europe since World War Two.
"No deal can stand on one leg: It must stand on two legs," Kremlin spokesman Dmitry Peskov told reporters. "In this regard, of course, judging by the state of play today, the outlook (for its extension) is not so great."
To help persuade Russia to allow Ukraine to resume its Black Sea grain exports last year, a separate three-year agreement was also struck in July in which the United Nations agreed to help Russia with its food and fertilizer exports.
Peskov said this deal "has not worked and is not working so far."
Last month, Russia only agreed to renew the Ukraine Black Sea grain export deal for at least 60 days, half the intended period. Moscow said it would only consider a further extension if several demands in relation to its own exports were met.
Those include allowing the Russian Agricultural Bank to return to the SWIFT payment system, allowing Russia to import agricultural machinery, the removal of insurance restrictions, port access for Russian ships and cargo, and an unblocking of the financial activities of Russian fertilizer companies.
Russia and Ukraine are two of the world's key agricultural producers, and major players in the wheat, barley, maize, rapeseed, rapeseed oil, sunflower seed and sunflower oil markets. Russia is also dominant in the fertilizer market.
The Ukraine Black Sea export agreement has allowed more than 27.5 million tons of food to be exported by Ukraine, and the United Nations says this has contributed to the lowering of food prices around the world.
But the U.N. World Food Program warned earlier this month that food insecurity remains at unprecedented levels in 2023 as conflict, economic shocks, climate extremes and rising fertilizer prices continue to disrupt food production globally.