Portugal and Brazil do not think alike regarding Ukraine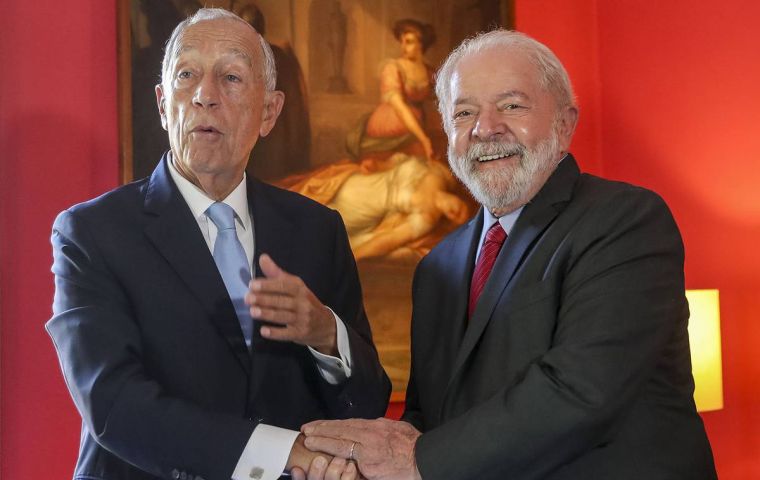 While Brazilian President Luiz Inácio Lula da Silva insisted in Lisbon on the need for a "negotiated" peace between Russia and Ukraine, his Portuguese hosts were quick to show their disagreement with an initiative that could "benefit the offender."
"At the same time that my government condemns the violation of Ukraine's territorial integrity, it defends a negotiated political solution to the conflict," said Lula after meeting with his Portuguese counterpart, Marcelo Rebelo de Sousa. "We urgently need a group of countries to sit down to negotiate with both Ukraine and Russia to seek peace," Lula stressed.
"Portugal's position is different," quickly pointed out the leader of this European Union (EU) and NATO member country and one of the first to supply combat vehicles to Kyiv. "President Lula believes that the road to a just and lasting peace involves prioritizing the path of negotiation," Rebelo de Sousa said. But "the Portuguese position is different: it holds that an eventual path to peace presupposes Ukraine's prior right to react to the invasion, recovering what it can or wants to recover of its territorial integrity," he said. And that is due to "a matter of principle, which is not to benefit the offender," he stressed.
On his first trip to Europe since his return to power in January, Lula, who had served as president between 2003 and 2010, opted for a four-day visit to the former colonial power from which Brazil gained independence in 1822. The second and last stage of this mini-tour will be to Spain starting Tuesday.
In his quest to improve Brazil's image after the Jair Bolsonaro years (2019-2022), Lula traveled in February to the United States, where he met with President Joseph Biden. But when he met this month with his Chinese counterpart, Xi Jinping, he urged the United States to stop "encouraging war" in Ukraine.
He had previously argued that the responsibilities for the war triggered by the Russian invasion of Ukraine in February 2022 are shared between the two countries. The United States was quick to accuse Lula of "echoing Russian and Chinese propaganda, without taking into account the facts."
Last Monday, Lula welcomed Russian Foreign Minister Sergei Lavrov in Brasilia. The visiting official "thanked" Brazil for its "contribution" in the search for a solution to the conflict and for "its excellent understanding of the genesis of this situation."
In that scenario, Ukraine invited Lula to visit Kyiv so that he "understands the real causes and essence" of the war. Representatives of the Ukrainian community in Portugal met on Friday with members of the Brazilian delegation and Lula announced that he would send his chief diplomatic advisor, Celso Amorim for a meeting with President Volodymyr Zelensky.
"Brazil is determined to contribute to the promotion of dialogue and peace, and to put an end to this conflict," Brasilia insisted in a statement.
On Tuesday, Lula will deliver a speech to the Portuguese Parliament ahead of commemorations of the 49th anniversary of the Carnation Revolution, which ended 48 years of right-wing dictatorship and 13 years of the European country's colonial wars in Africa.