Round the world solo sailor thanks Falklands waters Taiwanese fishing vessel for his rescue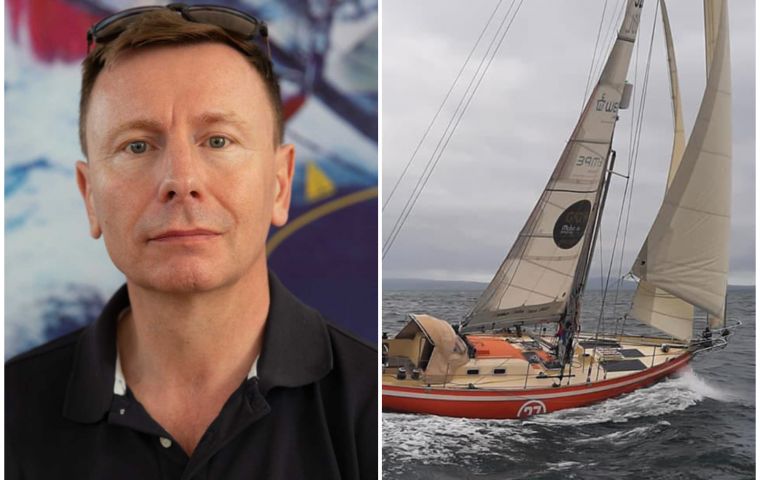 BBC Radio Shropshire is reporting that a round-the-world sailor who was hurt and stranded when his boat was damaged in a storm to the northeast of the Falkland Islands has praised the crew of a fishing vessel who rescued him.
Ian Herbert-Jones, from Oswestry, Shropshire, was taking part in the Golden Globe Race when high winds and waves hit in the South Atlantic. A Taiwanese fishing crew rescued him as his boat's mast snapped and they took him to Cape Town.
Read also: British solo sailor successfully rescued by Taiwanese jigger 900 miles from the Falklands
"They were just wonderful," Mr Herbert-Jones said. "The guys took me to [their] heart, they dressed me, they patched me up.
"I spent eight days living as one of the crew - three bowls of rice a day and following the same routine as they were doing although they would not let me do any work."
Mr Herbert-Jones said he jumped for the ladder on the side of the fishing boat and its crew pulled him aboard
The 52-year-old suffered injuries to his head, back and shoulder in the storm that struck while he was near the Falkland Islands, telling BBC he had "bounced back pretty quickly" but was left with a small scar on his forehead.
During the rescue, the 75m long fishing boat came alongside his craft, Puffin, in the rough seas and Mr Herbert-Jones tied his boat to theirs.
"It's pretty dramatic stuff; essentially it is a controlled crash," he said. "A pilot ladder comes down the side and I had to essentially pick my moment.
"When I got on to the ladder, I don't think I took a step myself, there were so many hands that grabbed me and dragged me over the side, it was quite amazing."
The Golden Globe Race sees competitors attempt to solo circumnavigate the globe in traditional boats, with about 30 skippers leaving France in September to take part.
Mr Herbert-Jones spent eight days living with the crew of the fishing boat after they rescued him. Mr Herbert-Jones said his rescuers "wrapped me up in love" and they were "just wonderful".
The crew had just finished their fishing season around the Falklands Islands and were about to head home when they assisted, he explained.
Losing his boat, he added, had been "almost like a bereavement" but the sailor said while he was going to take up gardening, he had not ruled out taking part in the race again as he had "some unfinished business there".