Borrell and Petro discuss peace process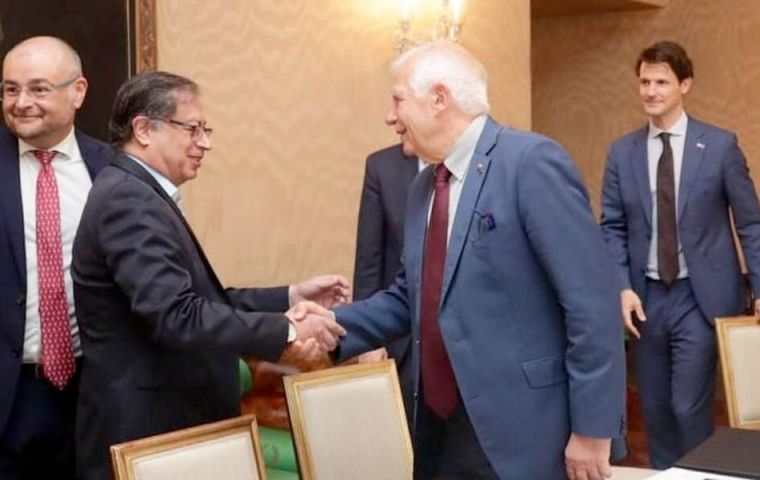 Colombian President Gustavo Petro, and the European Union's High Representative for Foreign Affairs and Security Policy, Josep Borrell, gathered in Bogota's Casa de Nariño Friday to discuss the ongoing peace process in the South American country and other bilateral issues. Borrell also announced donations of € 26 million.
Borrell told reporters that he spoke with Petro about "the peace process, the Europe-Latin America bilateral collaboration, and Russia's aggression against Ukraine".
"Latin America has voted massively in the United Nations against the invasion, condemning this invasion, it has to make an effort to promote peace, understanding that it is a just peace, not the peace of the defeated, but a peace that respects the principles of the United Nations," he added.
Borrell made these remarks in Cartagena de Indias, where he is attending the forum "Latin America, the Caribbean and Europe: Recalibrating our strategic partnership", organized by the European External Action Service (EEAS) and the EU-LAC Foundation.
The forum, which is being held at the Spanish Cooperation Training Center in Cartagena de Indias, aims to work with "intellectuals and political and social leaders from various European countries, not only Colombia, to try to better understand the role of each one in this new global geopolitical scenario."
"I would like to thank all those who have come to our call so that behind closed doors we can discuss, dialogue, and try to prepare well the summit between the European Union and Latin America," Borrell also said.
Borrell also announced that the EU would send an envoy to oversee the Colombian peace process: Eamon Gilmore, who was the European Union delegate for the peace dialogues in Colombia in 2015 and is the current EU Special Representative for Human Rights. In addition, the EU will also support the urban peace processes that are taking place in cities such as Buenaventura and Medellin between criminal gangs. Gilmore is due in Colombia on May 16.
"We have reaffirmed our commitment to elevate our Colombia-European Union relations and to conclude an association and cooperation agreement that complements the trade agreement we already have, but which needs to be modernized," said Borrell.