Paraguay chooses new President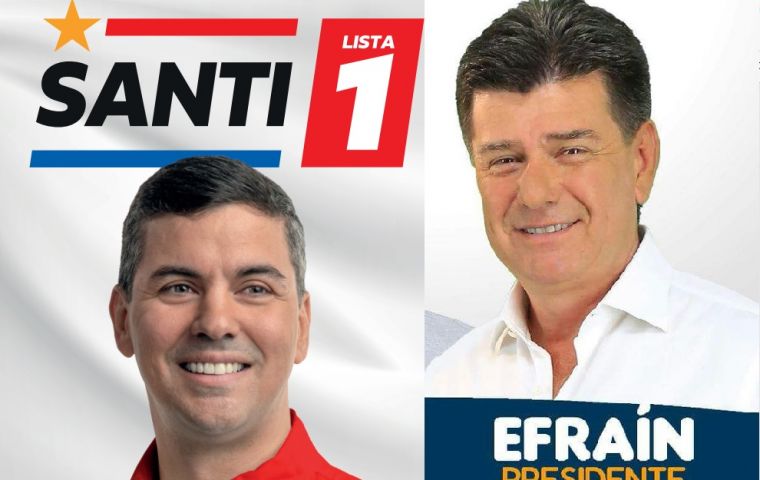 Since 7 am local time Sunday (GMT -4), around 4.78 million Paraguayans started voting for the new President, who will take over from Mario Abdo Benítez on Aug. 15, it was reported in Asunción. As per Paraguayan law, there is no runoff, so whoever gets the most votes Sunday, even by the slightest of differences, will be declared the winner.
Santiago Peña of the ruling National Republican Association (ANR), also known as the Colorado Party, and Efraín Alegre of the opposition Concertación Nacional are said to account for 70% of all the votes and there was a technical tie between both candidates according to many pollsters.
Vying for third place are Senator Paraguayo "Payo" Cubas, former Foreign Minister Euclides Acevedo, and former national football team captain José Luis Chilavert with around 2% of the votes each. The rest of the 13 candidates do not exceed 1 % of the preferences, according to local media. Paraguayans will also elect 45 senators, 80 deputies, 17 governors, and 17 departmental boards.
The campaigns were marked by corruption scandals that especially affected the Colorado Party, the political force that has governed Paraguay uninterruptedly since 1943, except for the Fernando Lugo years (2008-2012), who ended up impeached.
Peña was mentored by ANR Chairman and former President Horacio Cartes, who has been declared significantly corrupt by the United States, thus staining the party's image.
In this election, 541,433 more voters are eligible to vote than in 2018, which represents a 12.8% growth of the electoral roll. However, the average voter turnout for the last five presidential elections (1998-2018) was 68%.
In addition to the Colorado continuity, at stake on Sunday is Paraguay's foreign policy regarding close ally Taiwan. Peña has already announced that, if elected, he would resume diplomatic ties with Nicolás Maduro's Venezuela.
The 1,140 polling stations, which house 12,171 electronic ballot boxes, will remain open until 4.30 pm (GMT -4).