Chile votes again to draft new Constitution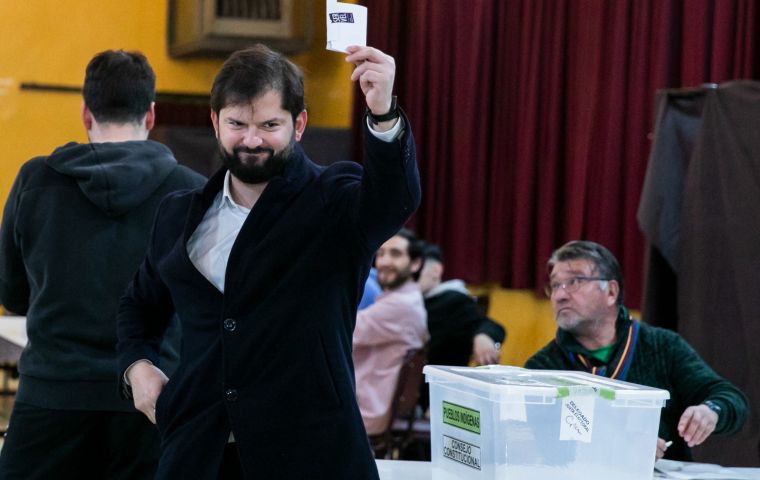 Over 15 million Chileans are to vote Sunday in order to form the 50-member body to draft a new Constitution with which to replace the one stemming from the Augusto Pinochet military regime after the previous project was massively turned down in a referendum in September last. Voting is mandatory and fines are imposed on those who cannot justify their omission.
Most of the 353 candidates are linked to political parties such as the Republican Party -extreme rightwing- and the People's Party -conservative populists- or to the electoral coalitions: Todo por Chile -center left-, Chile Seguro -right- Unidad Para Chile -close to President Gabriel Boric Font. There will also be three independent candidates, from three regions. Jorge Sepúlveda (La Araucanía), Liset Quilodrán (Aysén), and Claudio Barrientos (Magallanes) and two candidates from native peoples, who could be elected with a special ballot if they gather 1.5% of the votes nationwide. If one of them or both are elected, the council would be increased to 51 or 52 members, accordingly.
The Constituent Council will have 50 members, 25 of them men and 25 women. Each voter may vote for only one candidate and the preliminary results will be subject to the principle of sex parity from party candidates.
Boric's government is said to have been weakened by the referendum's outcome while the conservatives will try to seize the opportunity to recover some of the ground lost in the presidential elections.
The drafting of a new Constitution was the great promise with which in 2021 then-President, Sebastián Piñera, managed to appease a wave of protests. A constituent convention with a majority of independents, although left-leaning, undertook a first attempt that ended up being rejected in September 2022, already with Boric in power. A large majority of voters (almost 62%) said "no" although eight out of ten Chileans had said in a previous referendum that they wanted a new Constitution.
According to a recent Criteria survey, 47 % of Chileans have "no or very little" interest in Sunday's elections and 62 % have "no or very little" information about them.