"I did not step down from any fight," Argentine president says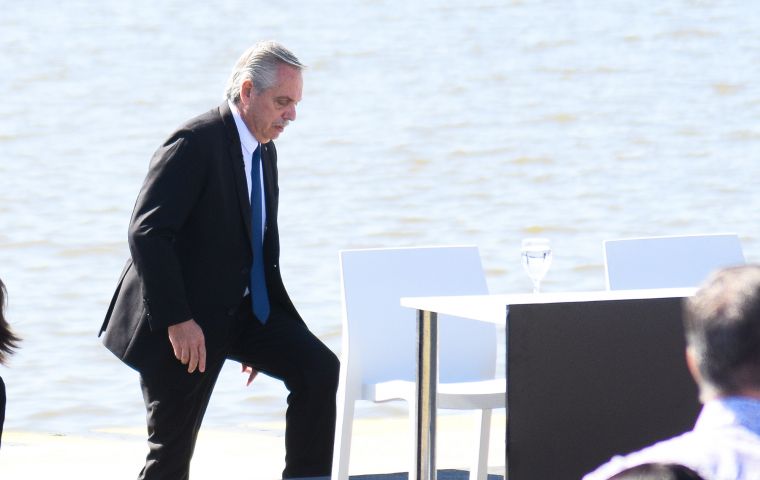 Argentine President Alberto Fernández traveled to La Rioja Monday to celebrate the Frente de Todos (FDT) win in last Sunday's gubernatorial elections and insisted he had not stepped down from any fight in a statement that baffled everyone following his announcement that he would not seek a second term at Casa Rosada.
Fernández made those remarks when meeting with Governor Ricardo Quintela.
Read also: Ruling parties are reelected in 3 Argentine provinces
"The truth is that I did not step down from anywhere," said Fernández. "Stepping down means going home. I am the President of the Republic at this moment. And my occupation is the problems of the Argentines. If I were to lock myself up in a campaign I would be dividing my time. What I want is for the government to solve the problems of the Argentines so that they vote for a fellow candidate," he stressed.
"I did not step down from my fighting post, I only understood that my fighting post at this moment is to be President of the Republic," he added.
"My task is to keep Peronism united and guarantee transparency in that process," he also explained. He insisted on the need to "be united, as it was done in La Rioja, to face those who always work to win and profit for their own benefit."
Regarding Sunday's elections, Fernández said "democracy was reaffirmed, [which] is important; we hear voices that say that democracy is not the way."
"It is a time when people are talking again that rights can be put on the back burner, that organs can be donated to obtain resources, or that the city streets can be privatized," the President added.