Ruling parties are reelected in 3 Argentine provinces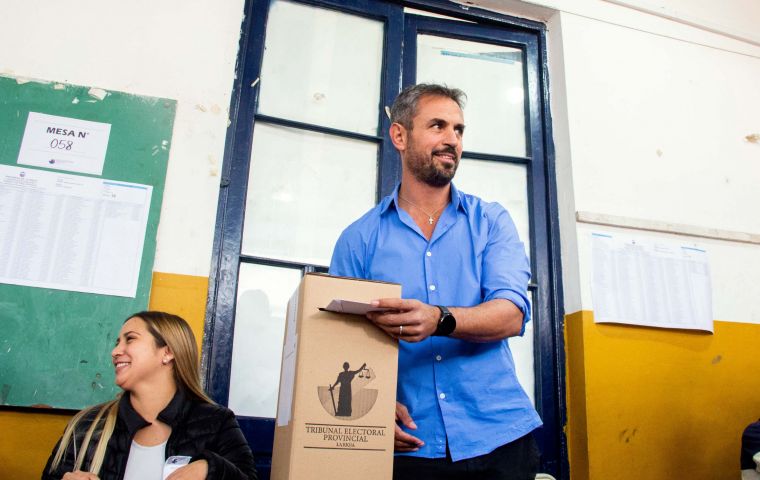 Three Argentine provinces held gubernatorial elections on Sunday. In all of them, the ruling parties were reelected. In a year with presidential elections looming, these results were expected to shed some light on who might make it to the Casa Rosada next December 10, but nothing of the sort happened.
The most surprising result was that the libertarian Martin Menem (nephew of former President Carlos Saul Menem and son of former Senate President Eduardo Menem) came third in La Rioja, once a Menemist bastion, where Governor Ricardo Quintela, of the Frente de Todos (FdT) was reelected. Menem's candidacy had been supported by presidential aspirant Javier Milei.
Quintela obtained 47.87% of the votes, beating Felipe Álvarez, of Juntos por el Cambio (JxC), who obtained 33.51%. To celebrate this victory, President Alberto Fernández is scheduled to travel to La Rioja on Monday. Menem came a distant third, with 15.98% of the votes.
Also at stake in La Rioja were provincial deputies in 11 departments; mayors, vice mayors and councilmen in all departments. The people of La Rioja also voted for 36 constituent convention members to reform the Constitution of the province. The FdT obtained 59.61% of the votes against 35.5% for JxC.
In Jujuy, the current governor, Gerardo Morales, of the Unión Cívica Radical (UCR, member of the JxC coalition), celebrated the victory of Carlos Sadir to become his successor with 50.3% of the votes, followed by Rubén Rivarola, of the Partido Justicialista, with 19.3%, and Alejandro Vilca, of the Frente de Izquierda, with 14.1%.
Morales was accompanied by the mayor of Buenos Aires, Horacio Rodríguez Larreta, and other JxC leaders. Although Morales has insisted that he will run for president, there was speculation that he might agree to accompany Larreta as running mate for the Primary, Simultaneous, Open and Obligatory (PASO) elections.
"Here are those who are going to take charge on December 10 of leading the destinies of the province. We are very happy. I also want to thank the participation of the other political forces that have had an impeccable democratic performance", said Morales.
And in Misiones, Hugo Passalacqua, of the ruling Frente para la Concordia, overwhelmed Martín Arjol, of JxC: 70.69% of the votes against 22.44% of the votes, although the scrutiny had not been concluded.