Brazilian coffee exports fall 10.3% in April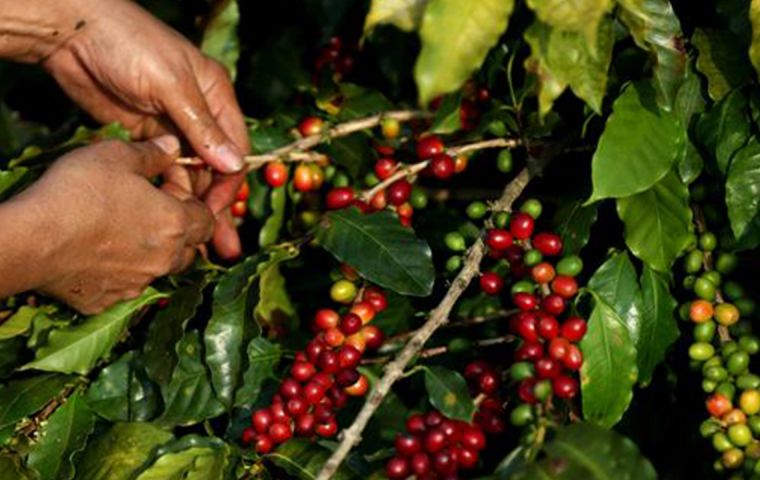 According to this week's latest report from the Council of Brazilian Coffee Exporters (Cecafé)., Brazil exported some 2.7 million bags (60 kilos) of coffee last month, 10.3% less than in April of 2022, which represented US$ 604.5 million in revenues, 16.9% less than in the same month last year.
So far in 2023, the volume of exported grain (11 million bags) fell by 19.9% and revenues fell by 25% to US$2.405 million, in the interannual comparison. In April 2023, 2,722,180 bags of 60 kilograms were exported, against 3,034,482 in the same month last year.
However, Cecafé president Marcio Ferreira was optimistic due to good crop conditions and buying interest from importing countries.
"In the physical market, an increase in liquidity has been observed in arabica offers for the current crop by producers, who, obviously, are already preparing for the harvest," he said in a statement.
In the first four months of the year, the United States, with 18.5% of all shipments, continues to be the main destination for Brazilian coffee, followed by Germany (12.9%), Italy (8.9%), Japan (5.8%) and Belgium (5.0%). Other leading buyers were Colombia, Turkey, the Netherlands, France, and Argentina.
Cecafe also said that, between January and April, the arabica variety represented 82.5 % of the total sales abroad, followed by the soluble variety (11.2 %).
In 2022 Brazil exported 39.35 million 60-kilo bags and although it recorded a 3.1 % drop compared to 2021, sales left record revenues of US$9.2 billion, which were 46.9 % higher than the previous year, thanks to the rise in grain prices and a favorable exchange rate.