Colombian president wants compulsory military service to end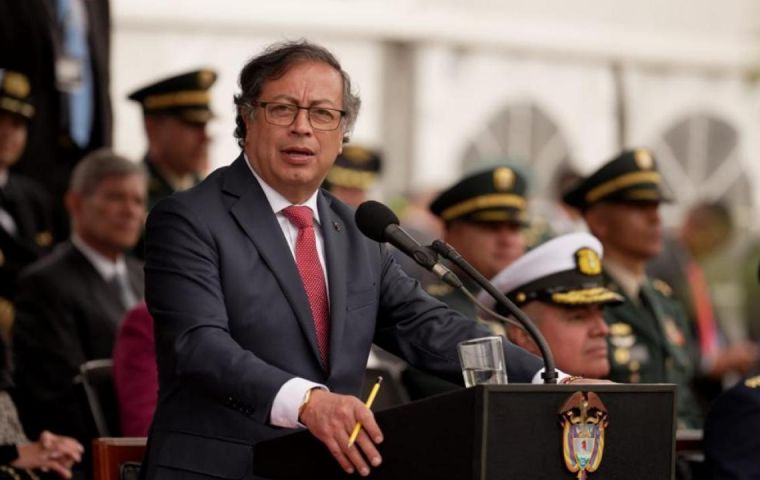 Colombian President Gustavo Petro wants his country to have more professional armed forces and thus bring the compulsory military service to an end, it was reported Wednesday in Bogota. The head of state also insisted on further funding the activity. In September last year, then Interior Minister Alfonso Prada had spoken about the government's plan to replace mandatory military service with a voluntary one. In the last five years, 460,113 young people between 18 and 24 years of age served compulsorily in the Armed Forces.
"People who take risks should have a special treatment; I have been in favor of not having compulsory military service. We have to talk about that, about the encouragement of young people so that they can develop a vital existence of joining the Army," Petro said during the ceremony marking the 72nd anniversary of the General Command of the Armed Forces. "But there must be a jump in salary, we cannot annul military service and professionalize [it] without having money," Petro went on.
"I have instructed the Minister of Defense that together with the Treasury they look at the fiscal space to order a substantial increase in the monthly allowances of Colombia's regular soldiers," he wrote on Twitter. He added that the top military and police forces have his "express order" to destroy the country's illegal economies.
"The security strategy is political-military. It implies the social inclusion of the peasant, the youth, and the territory but also the daily activity of destroying the illegal economies. It is not possible to destroy the illegal economy if the corruption of high police or military commanders is allowed," he warned.
In his speech, he considered that it makes no sense to fight against illegal economies when their leaders can easily recruit new members for their groups due to the financial muscle they have.
"If there are 10,000 poor young people, they can recruit as many as they want for illicit activities. The security strategy involves building an equitable economy so that the poor sectors are no longer poor. It is not a military strategy, but a civil and political one. Attacking illicit structures must be political and military," he said.
Petro also insisted that the strategy should be to attack the top of the drug trafficking pyramid and not the grassroots (growers and retailers).