Brazil asks US to help Argentine with IMF talks
Friday, May 12th 2023 - 10:59 UTC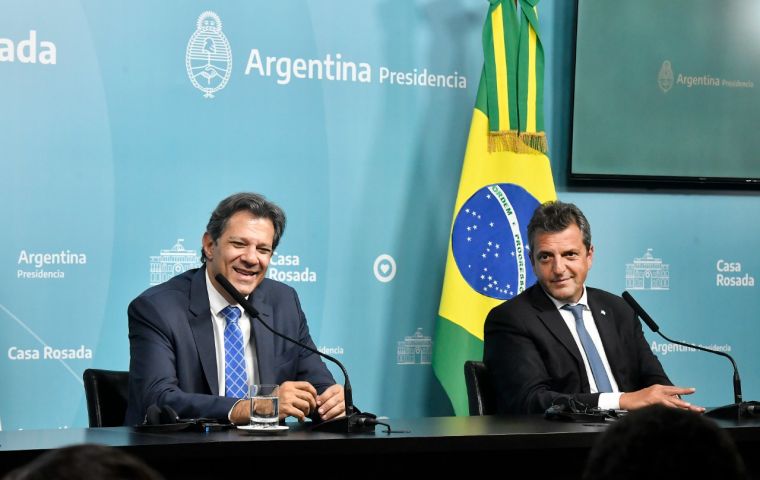 The Brazilian Government of President Luiz Inàcio Lula Da Silva Thursday asked the US Treasury Department to exert some pressure on the International Monetary Fund (IMF) -of which the US is the largest shareholder- to help Argentina overcome the current crisis caused by the drought while still bound by commitments signed with the world entity, which are holding back the economic development of the South American country.
Brazil's Finance Minister Fernando Haddad made the request in a meeting with the US Treasury Secretary Janet Yellen during the G7 finance ministers' summit in Niigata, Japan. Haddad also expressed his concerns about the "advance of the extreme right" in the upcoming elections. "We are concerned because this situation may affect Argentina's political destiny," he asserted.
"With Janet Yellen, Secretary of the Treasury of the United States. Our meeting here at the G7 (Japan) is in line with the next G20 meeting, chaired by Brazil. We are ready to bring concrete results to put our economy on the path to sustainable growth...," Haddad said on Twitter.
The Brazilian minister confirmed that his country was closely monitoring the situation of the Argentine economy, where the current drought could reduce exports by 20 percent.
Meanwhile, IMF Spokeswoman Julie Kozack said that the organization was working with Argentina in a "constructive" way to face the "very challenging and complex" economic situation.
"We are working very closely with the Argentine authorities in the context of the program to address the very challenging and complex situation," Kozack said. "The focus of the discussions now underway for the fifth review has been on strengthening the authorities' program, also taking into account the impact of the drought," she pointed out while recalling that back in March a disbursement of US$ 5.4 billion had already been approved.
Kozack also explained that the results of the ongoing talks are to be announced "at the appropriate time."