Argentina introduces new banknote amid high inflation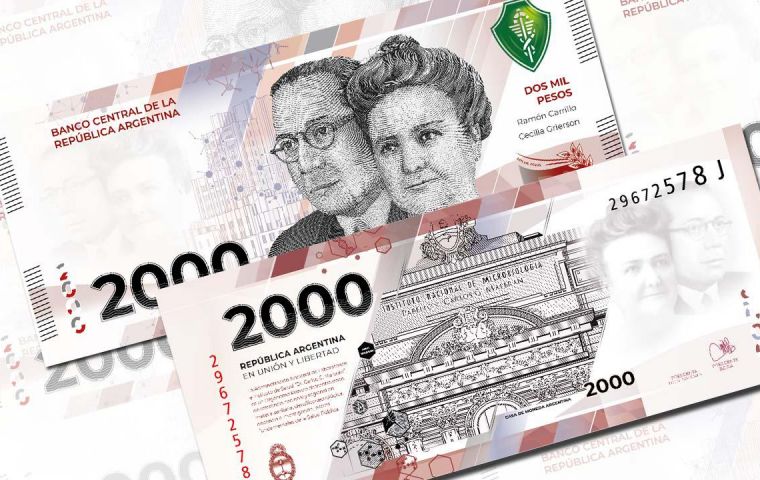 Argentina launched the AR$ 2,000 banknote on Monday, with a value slightly exceeding US$ 4 in the unofficial exchange rate. It will be the highest denomination banknote in a country where year-on-year inflation has reached 108%.
"The introduction of this higher denomination banknote will improve the functionality of ATMs and, at the same time, optimize cash transfers," said the Central Bank of the Argentine Republic (BCRA) in a statement. The Central Bank also noted that the payment methods in the country are experiencing a significant shift towards greater use of electronic means.
Until now, the highest denomination banknote in Argentina was AR$ 1,000. When announced in February, the AR$ 2,000 banknote represented 10 dollars at the official exchange rate.
On the same day, Economy Minister Sergio Massa announced an agreement with banks to extend financing through credit cards as a measure to stimulate consumption. "We believe that this effort will have a very positive impact on credit capacity and will increase consumption. We have work to do to continue improving credit," said Massa.
Last week, measures were also implemented to stimulate consumption, such as reducing the financing rate for 12-month credit installments, lowering the interest charged on unpaid credit card balances, and providing tax refunds for purchases by the most vulnerable sectors.
Economists quoted by local media argued that given the current inflation, a banknote of AR$ 5,000 should have been introduced directly.
The new banknote features a dark gray and pink color scheme and depicts the images of Cecilia Grierson, the country's first female doctor graduated in 1889, and Ramón Carrillo, a promoter of social medicine since 1946.