Canada, Saudi Arabia resume full diplomatic ties after 5 years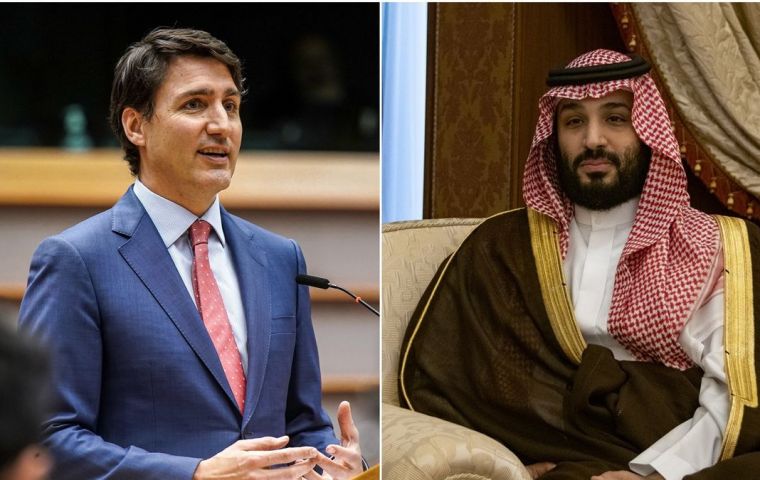 Five years after Saudi Arabia expelled Canada's ambassador from Riyadh over Ottawa's remarks on women's rights activists, both countries agreed Wednesday to restore full diplomatic relations, Global Affairs Canada (Canada's foreign ministry - GAC) announced in a statement.
According to press reports, the meeting in November between Prime Minister Justin Trudeau and Saudi Arabia's Crown Prince Mohammed bin Salman on the sidelines of the Asia-Pacific Economic Cooperation (APEC) summit was instrumental to this decision. "In light of what has been discussed between [Trudeau and bin Salman] ... and the desire for both sides to restore diplomatic relations between the two countries on the basis of mutual respect and common interests, it has been decided to restore the level of diplomatic relations with Saudi Arabia to its previous level," the statement from GAC read.
In 2018, Saudi Arabia expelled Canada's ambassador after GAC tweeted support for women's rights activists -including Samar Badawi¬- who had been arrested. The Saudis also sold Canadian investments and ordered their citizens studying in Canada to leave. The activists have since been released.
Badawi is the sister of Raif Badawi, a Saudi dissident blogger who has been imprisoned by the Saudi government since 2012 on charges of apostasy and "insulting Islam through electronic channels." Raif Badawi's wife Ensaf Haidar and their three children fled Saudi Arabia and have been living in Canada since 2015.
Dennis Horak, Canada's former ambassador, who was expelled from Saudi Arabia in 2018, said it was "about time" relations were restored. "They're an important player and they're hard to ignore. And I think having full diplomatic relations with them allows us to have our voices heard at senior levels, which in Saudi Arabia is what matters," he told CBC.
Horak also suggested that Saudi Arabia could have an impact on the war in Ukraine, as the country has ties with Russia. Ukrainian President Volodymyr Zelenskyy attended a summit of the Arab League in Saudi Arabia last week and called for greater cooperation between the two countries.
The Saudis have been on a diplomatic push in recent months. Saudi Arabia has restored diplomatic ties with Iran, moved to end the kingdom's yearslong war against Iran-backed rebels in Yemen, and led the push for Syria's return to the 22-member Arab League.