Lula not to travel to St Petersburg for Putin meeting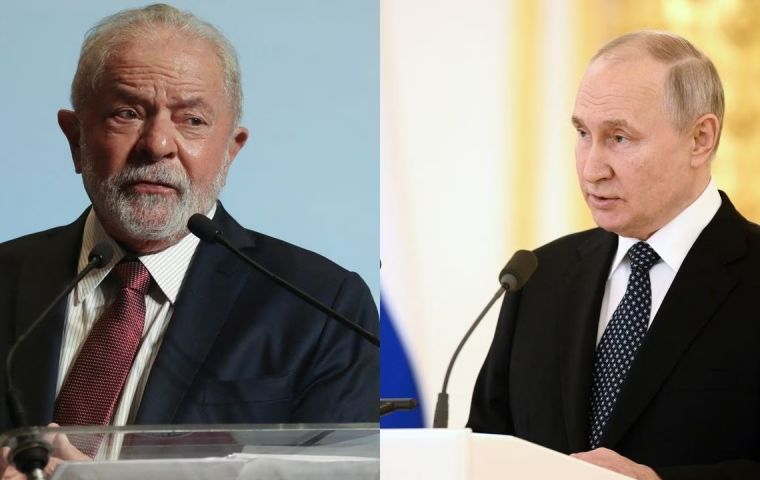 Brazilian President Luiz Inácio Lula da Silva has become a major player in South American diplomacy lately, but he has been forced to decline an invitation from his Russian colleague Vladimir Putin to go to St. Petersburg. "I can't go to Russia now," Lula said days after a frustrated meeting with Ukrainian leader Volodymyr Zelensky in Hiroshima.
"I thanked (Putin) for an invitation to go to the St. Petersburg International Economic Forum and replied that I cannot go to Russia at this time," Lula tweeted regarding the event scheduled for June 14-17.
"But I reiterated Brazil's willingness, along with India, Indonesia, and China, to talk with both sides of the conflict in search of peace," the leftist leader added.
Lula proposes Brazil as a mediator in a negotiation to end the war between the neighboring countries, unleashed by the Russian invasion of Ukrainian territory in February 2022.
The Brazilian leader has been accused of parroting Russian propaganda, so his declining Putin's invitation after failing to meet with Zelensky has been interpreted as a sign of moderation.
As tension escalates in Europe, Russian diplomatic sources were quoted as warning that Moscow could cut ties with the United Kingdom for its "significant involvement in the Ukraine conflict." The Wall Street Journal reported last week that "UK special forces from the British Army's SAS and SRR regiments and the Navy's SBS units were operating very close to the front lines" in Ukraine.
Although British personnel is not directly involved in the fighting with Russian troops, "their guiding influence on Ukrainian special-forces activity is evident in the sabotage operations Ukraine has conducted against Russian railway, airfield, fuel and other logistical nodes," the US outlet claimed.