First Chinese-built airliner enters aviation market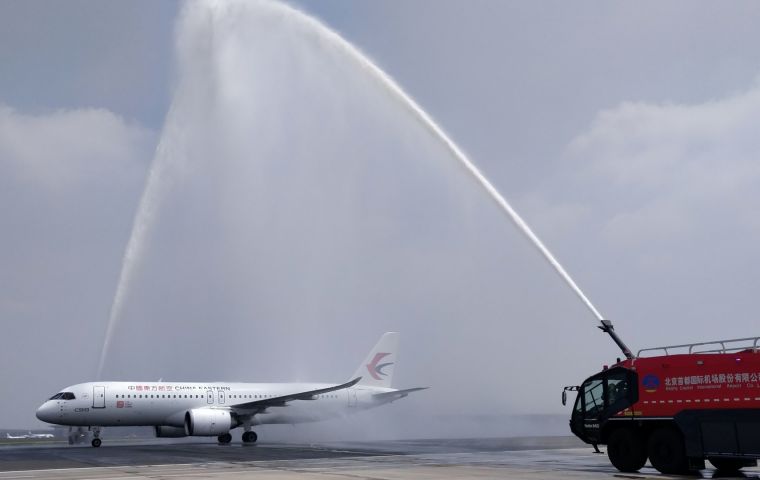 The COMAC C-919, China's first passenger aircraft, Sunday completed its first commercial flight marking its official entry into the civil aviation market, it was reported in Beijing, where authorities are confident it can compete with the Boeing 737 MAX and Airbus A320. China Eastern Airlines flight MU9191 landed "smoothly" at Beijing International Airport Shanghai's Hongqiao Airport with 130 passengers at 12:30 local time, after which firefighters performed the traditional water arch.
The C919, developed by the Commercial Aircraft Corporation of China (COMAC), was granted a type certificate by the Civil Aviation Administration Of China (CAAC) last September. So far, over 1,200 C919 jetliners have been ordered. The C919 program was greenlighted 15 years ago, but it faced a barrage of regulatory and technical setbacks because although it is assembled in China, it heavily relies on Western components.
China Eastern Airlines signed a contract to buy five C919s in March 2021 in the first commercial deal for the plane. The airline received its first C919 jet, numbered B-919A, on Dec. 9, 2022, and the remaining four aircraft will be delivered over the next two years. The carrier began a 100-hour verification flight for its first C919 aircraft on December 26, 2022, to verify and confirm the aircraft's operational safety.
"The first commercial flight is a coming-of-age ceremony of the new aircraft, and C919 will get better and better if it stands the test of the market," said Zhang Xiaoguang, director of marketing and sales at Comac, as reported by Xinhua.
China Eastern Airlines' C919 has 164 seats in a two-class cabin configuration consisting of business and economy seating. The aircraft boasts a range of up to 5,555km (3,452 miles) and seeks to compete with single-aisle jets made by Airbus and Boeing.