Aerolíneas Argentinas flight attendant arrested for allegedly making bomb threat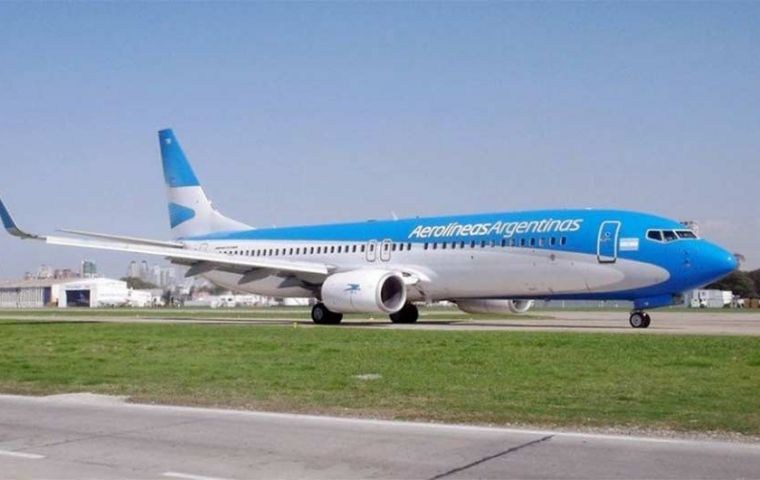 An Aerolineas Argentinas flight attendant was arrested Monday for allegedly making the phone calls saying there was a bomb on the flag carrier's May 21 flight AR 1304 from Ezeiza to Miami, it was reported in Buenos Aires.
The aircraft had to be completely evacuated and it finally departed nine hours behind schedule. The woman was detained upon arrival from her last flight at the request of Federal Judge Federico Villena, who imposed a seal of secrecy on the proceedings.
The suspect had sent a WhatsApp audio to the captain of the flight and to other Aerolíneas Argentinas employees warning them that three bombs had been placed to blow up the aircraft into pieces.
Aerolíneas Argentinas sources quoted by Telam warned that if the case ends up being true proper action will be taken against the culprit "proportionally to the seriousness of the fact."
"Tell the captain that we put three bombs in the Miami. He should stop fucking around with politics and check the plane because they are going to blow up in a thousand pieces," the audio voice allegedly said according to local media.
The voice was distorted, but the investigators were able to establish, firstly, that it was a woman's voice and, later, to determine its origin, which led to the arrest of the flight attendant, who is believed to have been having a romantic relationship with a cabin crew member who was on the flight to Miami until two months ago and had used the threat to the captain and the plane to divert the real motive, which was to mess the life of her ex-partner.
Other messages to the flight captain warned him that the perpetrators knew "where his daughters were going to school".
The delay cost Aerolíneas Argentinas over US$ 1 million due to the rescheduling of the flight.