Falklands and HMS Medway honor patrol vessel HMS Leeds Castle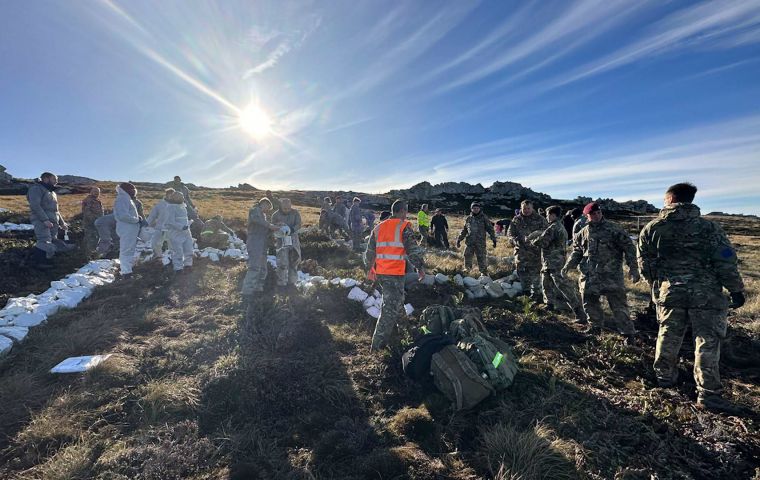 HMS Medway is carrying out patrol duties in the Falkland Islands, filling in while HMS Forth undergoes refit in Gibraltar, but her crew are leaving behind a lasting legacy, which will even be visible from space.
Along with the Falklands' MPC garrison staff and local residents, the crew of the offshore patrol vessel, spelt out 'Leeds Castle' using giant boulders painted white, adding it to the list of ships associated with the Falklands that is laid out on Peninsula Camber, the hillside opposite the capital Stanley.
It is part of a long-standing tradition of the island to honor the warships that have patrolled the South Atlantic British overseas territory.
Somehow, until now, Leeds Castle was overlooked, despite enjoying a long association with the Falklands.
This omission was put right, nearly two decades after she left the Islands for the last time, as part of the 'Big Help Out' volunteering drive connected to the King's coronation.
Lieutenant Callum Whyte, Medway's Logistics Officer, said: "The effort to paint rocks on a hillside may seem like a small thing, but it meant a great deal to the sailors of both HMS Leeds Castle and HMS Medway.
"It was a reminder of the bonds which exist between those who serve in the military, and the lengths that they will go to honor and respect each other."
Despite the harsh Falklands climate, the paint job withstands the elements remarkably well and the stones are large and bright enough to be visible from a height of 7,000ft and can be seen on Google Earth (minus Leeds Castle until the satellite imagery is updated) at 51º40'58"S, 57º51'32"W.
As for Leeds Castle, she's still at sea, now flying the Bangladeshi flag as missile corvette Dhaleshwari.
Ships that are celebrated with their name in white stones on Peninsula Camber include:
Barracouta – which patrolled the Islands in the early 19th Century keeping fishermen in check
Beagle – the vessel which famously carried Charles Darwin on a circumnavigation in the 1830s and led eventually to his groundbreaking On the Origin of Species book
Protector – not the current survey vessel, but the Arctic patrol ship from the '50s and '60s
Endurance – Protector's successor from the late '60s through to 1991 and then her namesake (1992-2008)
Dumbarton Castle – Leeds Castle's sister ship which was associated with the Falklands from the 1990s until 2007
Clyde – Falklands guard-ship from 2007 until OPV HMS Forth arrived on the scene a couple of years ago