Falklands farmers face tough times unable to have a fluid sale of their wool clip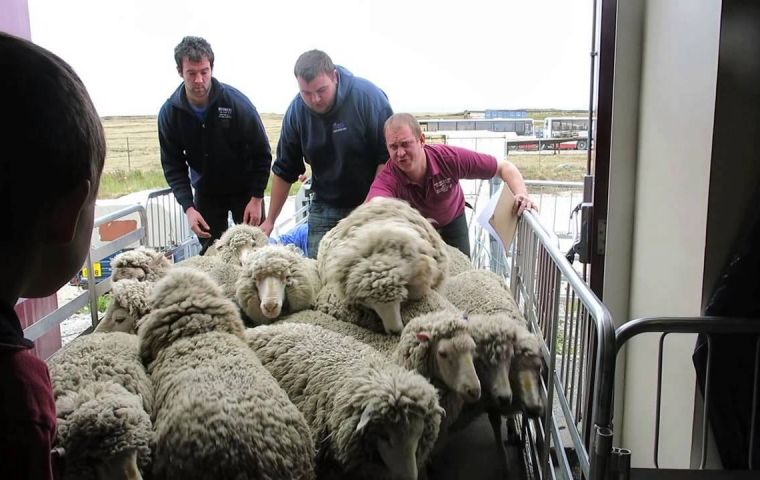 Lawmaker Gavin Short rose at the Falkland Islands elected Legislative Assembly this week and asked MLA Teslyn Barkman if she was "aware of any farms that have been unable to sell their wool clip either fully or partially this season."
He also asked if "there are any indications that this may be causing cashflow difficulties that may require central Government to intervene."
MLA Barkman told the Assembly: "The short answer is yes." She went on to deliver the response from Director of Natural Resources, Dr Andrea Clausen.
"Feedback from wool marketing agents has revealed that wool sales for the Falkland clip is behind where it would normally be at this time of year."
Dr Clausen had said that wool sales are standing at around 35-40% sold, significantly behind the 75% normally seen. The slowdown was ultimately due to "a combination of logistics, demand and producers holding out for stronger prices."
Dr Clausen also referenced a relevant Australian Weekly report, which said that various factors such as interest rates, threats of global recession and the war in the Ukraine coupled with consumer confidence has impacted global prices for greasy wool.
Long term, the report said, there is still a demand for the product but the spot price is being affected by the clearing of the backlog in the supply chain, particularly at greasy and wool top level.
There has been some indication that some rural businesses may be suffering, but the extent of this is not yet understood. Once it is, government intends to explore potential solutions.
Low demand
Commenting herself on the problem, MLA Barkman went on to say: "I've been in contact with the main seller to get their view of things … At the moment, delays and shipping affect everyone in the supply chain and they noted that the demand for buying wool is low at the moment.
"Current freight rates are also contributing to the lack of interest, where European buyers are struggling to compete with Uruguayans.
Again, this is an expression of the inflationary pressures currently experienced around the world. But it's also where the net standard price is so much more important at times, when gross offers from European buyers have been better. But the freight means that the net is worth much less.
"Buyers are wary of borrowing money to purchase large amounts of wool, especially when it would normally take them 12 months to fulfil an order and pay back the loan. But it's now taking between 24 and 28 months. This means that they are paying higher interest rates for a much longer period and therefore not being able to offer the same prices."
MLA Barkman concluded by requesting information from those in the midst of this situation.
"I certainly do support any short-term measure for anyone who's suffering and I will use this opportunity to express that if anyone does want to reach out with any personal stories or personal struggles, I will of course respect the anonymity of that but it will be helpful to have up-to-date information that can help lean into what options we have as MLAs to support farmers"