All money laundering charges against CFK dismissed
Tuesday, June 6th 2023 - 10:30 UTC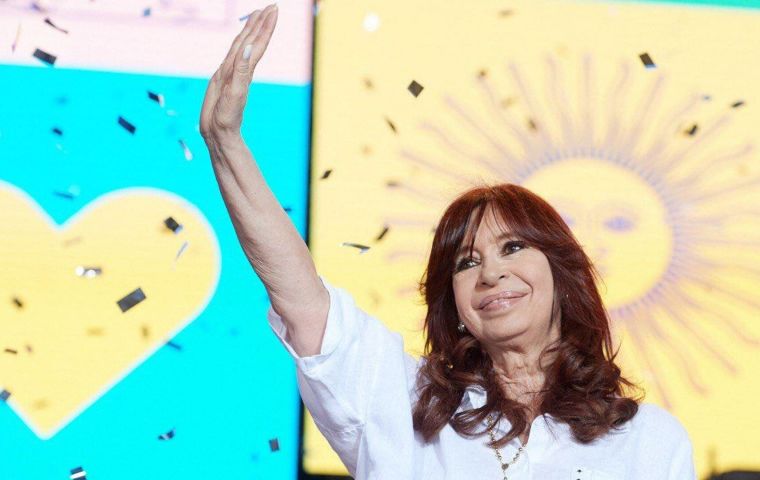 All charges against Argentine Vice President Cristina Fernández de Kirchner (CFK) have been dismissed in the money laundering case known as La Ruta del Dinero K (The K Money Route).
Federal Judge Sebastián Casanello issued his ruling Monday in the absence of an indictment from Federal Prosecutor Guillermo Marijuan, who had filed for CFK's acquittal.
"Without [an] accusation there is no possible criminal proceeding", warned the judge, who based his decision on Marijuan's request, which was supported last Friday by the two state agencies involved as plaintiffs in this case: the Financial Information Unit (UIF) and the Federal Administration of Public Revenues (AFIP - tax bureau).
"Faced with the request of the accuser and holder of the criminal action to dismiss -accompanied by the rest of the state agencies- the judge's task is limited to examining the requirements of reasonableness and legality of the request, which in the present case have been met," Casanello ruled.
In the same case, businessman Lázaro Báez and other defendants were sentenced to 10 years in prison for laundering US$ 55 million.
"It was proved that the owner of the undeclared capital, which was deposited in the name of other persons and, after the circulation typical of this criminal modality, entered into the account of Austral Construcciones, was always Lázaro Antonio Báez," an appeals court had found.
Báez laundered money through the use of false invoices for public works in the province of Santa Cruz.
The court considered it proven that in order to launder the money "a sophisticated corporate and financial mechanism was used, which included the use of shell companies" that evaded tax controls to take the money abroad to different international banks and re-enter the country with stock exchange operations.
In a separate decision, Casanello declared "inadmissible" a request made by an association called "Bases" to become a plaintiff in the case and thus be able to request the nullity of the ruling in which the prosecutor decided to dismiss the case against the Vice-President for lack of evidence.
The case started when businessman Leonardo Fariña declared as repentant in the case and said that Báez, in a meeting they had, told him that Cristina Kirchner had asked him if he was taking money abroad because he had been informed so in the US embassy. Fariña added that the businessman asked him to be "more prudent with his movements." Baéz and Fariña were both convicted of money laundering.