Impeccable landing of a RAF Globemaster C-17 in St Helena airport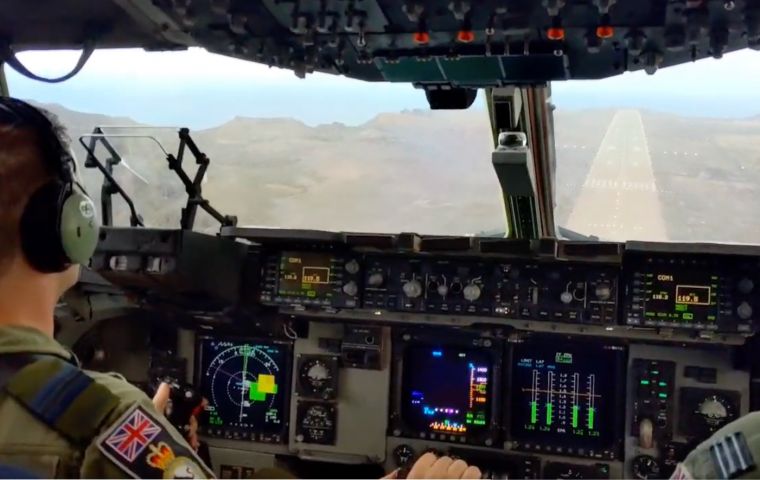 As part of a Royal Air Force capability demonstration, the mighty Boeing C-17 Globemaster, with a wingspan of 51.755 meters, is now visiting St. Helena Airport in the South Atlantic. It is the first time an aircraft of such characteristics has landed in the St Helena Airport.
South Africa's Airlink has served St. Helena Airport since October 14, 2017, flying a weekly service with its Embraer 190AR, with the AR standing for advanced range. However, there are times when the British need to haul heavy equipment to the remote overseas territory, which is why one of the Royal Air Force's eight C-17s paid a visit.
According to the St. Helena Independent, the C-17 registered ZZ177 arrived on May 19 to undertake four approaches, a fly-past over James Bay and finally a full-stop landing. During the last approach, the aircrew also did a bit of showmanship, showing off the undercarriage to the gathered spectators before landing.
The landing showed off the C-17's incredible capabilities by using only about 767 meters of the runway, just about half its total length. St Helena's runway is around 1,535 meters long.
After a full stop landing and a more acute turnaround than the weekly Airlink E190, the C-17 crew and personnel, numbering about 20, had a picture with the airport CEO Gwyneth Howell. For the airport that was once branded the 'world's most useless,' St Helena continues to prove its worth.
The C-17 Globemaster is a Boeing-built military airlifter that first flew on September 15, 1991. Two hundred seventy-nine aircraft were built between 1991 and 2015, with the overwhelming majority (222) in service with the US Air Force. However, C-17s can also be found with the air forces of the following countries: Australia, Canada, India, Kuwait, NATO, Qatar, United Arab Emirates and United Kingdom
The C-17 Globemaster – called Globemaster III – in United States Air Force service is an undeniable sign of national commitment to a cause. With 77,519 kilograms of maximum payload, the C-17 can haul military tanks as well as large industrial equipment anywhere in the world with aerial refueling. Without aerial refueling, the C-17's range is around 4,480 km.