Chile's Constitutional Council instated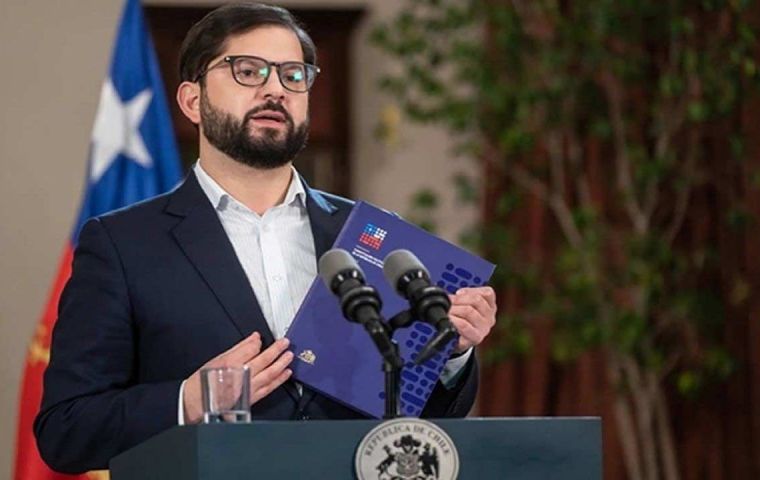 Chile's Constitutional Council, a body of 50 people that will pen a new Constitution, was instated Wednesday in Santiago in a new attempt to change the 1980 Magna Carta inherited from Augusto Pinochet's military regime. The first try succumbed in a plebiscite in September of 2022.
"We are standing on the shoulders of giants. And today you assume a task that has been entrusted to you by the people of Chile and by its history, to represent the citizenry in the elaboration of a new constitutional text, a new Magna Carta, a new fundamental norm for our homeland," Presiden Gabriel Boric Font said.
"This council is being instated today because we have achieved, after a long road, agreements prevailing and also demonstrated, and I hope that all of us are aware of this, our strength as a country when we are capable of putting the common good above our particular interests," he added.
"Next December we will once again go to the polls to vote for or against the proposal that will emanate from you. And on that day, once again, the citizens will be the depositaries of popular sovereignty and will have in their hands, once again, the destiny of the constituent process. I am convinced that it will do our country good to close this cycle," Boric insisted.
Filmmaker and constitutional advisor Miguel Littin served as provisional president of the body at its installation. "I have come to greet you as a sign of friendship and I want to propose a small agreement, with great humility," he said in his inaugural speech.
"At the moment of swearing in, let us think of Chile, of the women, men, peasants, workers, the middle class, the people who trusted us and gave us a mission: write a clear, transparent Constitution, that I love it, make it mine, defend it and that will serve as a navigation chart for the future," he added.
Littin swore in 50 of the 51 elected councilors, due to the fact that Aldo Sanhueza submitted his resignation after sexual abuse allegations. He will not be replaced and the body will be composed of only 50 members.
The Constitutional Council also elected lawyer Beatriz Hevia as president of the body, and the former rector of the University of Valparaiso Aldo Valle as vice-president.
"We know very well that the text presented to us by the experts is a draft on which we have to work, and on which long days of conversation and debate are necessary. It is not a final point, but rather a starting point for it to become a meeting point," said Hevia, of the Republican Party.
Starting today, the 50 members of the body will work on the basis of a draft prepared by a council of experts previously appointed by the National Congress.
The resulting text will be submitted to a mandatory plebiscite vote on December 17. (Source: Xinhua)