Facemasks return to Chilean schools due to syncytial virus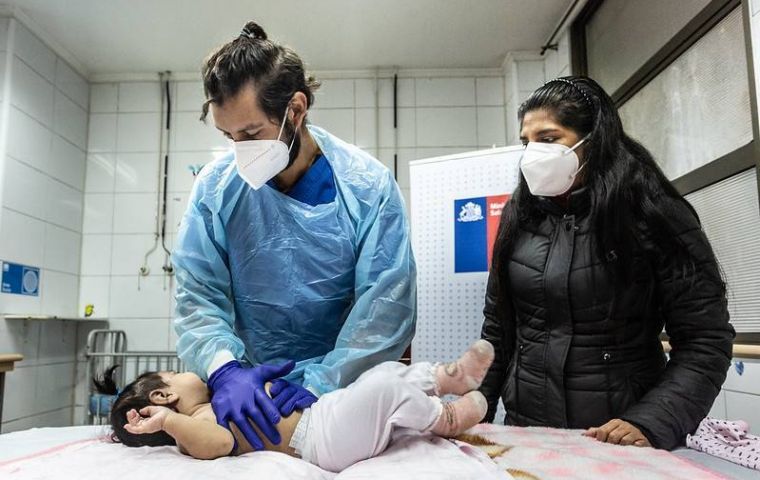 Chilean authorities Tuesday reinstated the mandatory use of facemasks at Chilean schools at least until Aug. 31 as a result of the "largest outbreak [of the syncytial virus] we have had on record," Health Minister Ximena Aguilera announced.
"We will establish the mandatory use of masks in schools until the end of the health alert, which is currently August 31," she added.
The measure applies to all schoolchildren over five years of age and seeks to deal with the outbreak of RSV "the largest we have ever had on record", according to Minister Aguilera, about a virus which especially affects children under one year and which can be fatal in that age range.
According to the Institute of Public Health, so far in 2023, there have been 18,728 positive cases of respiratory virus, the highest figure since records have been kept. Six deaths of children under one year of age have been recorded so far.
The circulation of this virus is common during winter in Chile, where alerts were triggered after the death on June 6 of a two-month-old baby who could not find a hospital bed after going to a children's emergency service in the town of San Antonio, 120 km from Santiago.
The scandal led to the resignation Tuesday of Undersecretary of Health Care Networks, Fernando Araos.
The increase in the number of infections, caused by the extensive confinement of Chilean children during the coronavirus pandemic that did not allow them to generate defenses, keeps pediatric emergency services at their peak, which had an occupancy of 93% of beds this Tuesday, it was explained.