Iceland suspends whale hunting until August 32; public opinion supports decision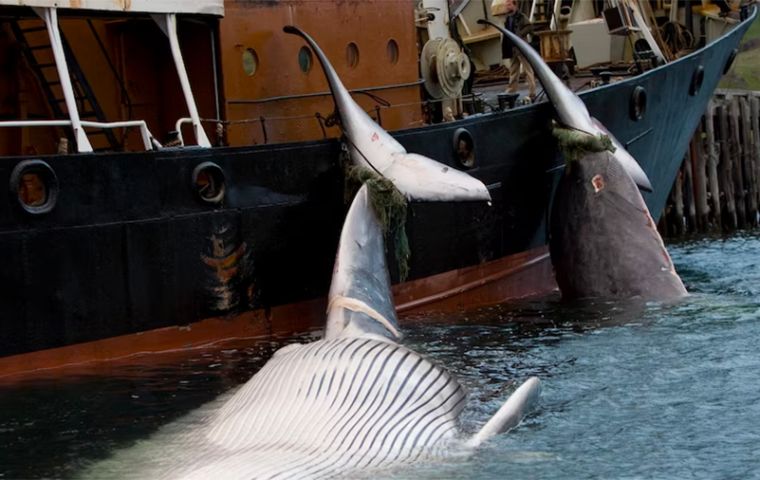 The Iceland government suspended whale hunting for the rest of the summer on Tuesday, following a report that found the practice contravenes the country's animal welfare standards.
"I have taken the decision to suspend whaling" until August 31, Food Minister Svandis Svavarsdottir said in a statement.
Iceland's Food and Veterinary Authority recently concluded that the killing of whales during the hunt took too long, according to the Animal Welfare Act, and provided a video showing a whale being hunted for five hours.
The practice has declined in recent years, thanks to suspensions in previous years and in large part to a drop in demand for whale meat.
But this year's suspension, which likely means that the hunt will not take place at all due to the limited season, may signal the end for Iceland's whale hunters.
Only one whaling company remains active and its license is set to expire this year. Whalers are allowed to kill up to 209 fin whales and 217 mink whales but catches have often been low.
Polls have also shown that the general public in Iceland has also turned against the traditional whale hunt, with 51% saying in June that they were opposed.
Iceland's booming tourist industry, which includes popular whale-watching tours, is also in direct opposition to the hunt. "If the government and licensees cannot guarantee welfare requirements, these activities do not have a future," Svavarsdottir said.
The move drew praise from animal rights groups, amid calls for a further complete ban.
"Whales already face so many serious threats in the oceans from pollution, climate change, entanglement in fish nets and ship strikes, that ending cruel commercial whaling is the only ethical conclusion," Humane Society International's director Ruud Tombrock said in a statement.
Besides Iceland, only Norway and Japan allow whale hunting. Robert Read of Sea Shepherd UK called the suspension "a huge blow" to whaling in general.
"If whaling can't be done humanely here... it can't be done humanely anywhere," he said.
The Icelandic government said that the minister would seek expert and stakeholder opinions on possible future limitations to whaling.