Argentina says Coast Guard unit to Yacyretá area following incident with Paraguayan Navy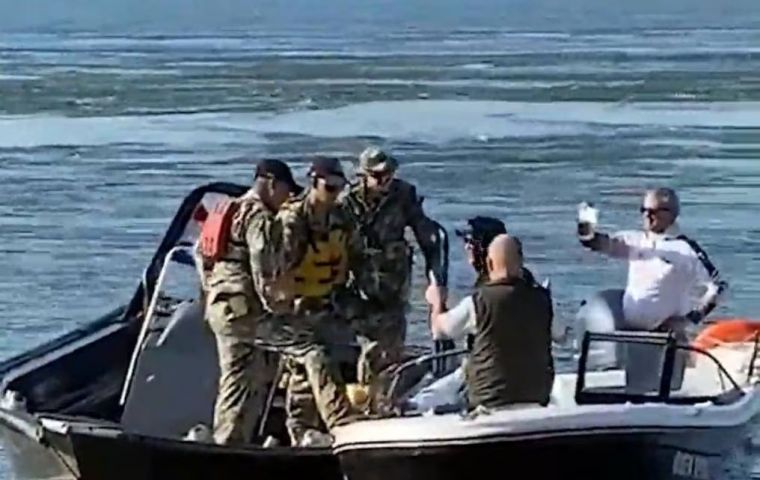 Argentina's Coast Guard (PNA) will up its patrolling in the Yacyretá dam area following an incident with the Paraguayan Navy which allegedly crossed into its waters, according to a complaint filed by local authorities of the province of Corrientes, it was reported.
The PNA deployed the Río de la Plata patrol boat to control the area while the San Martín Palace is considering a diplomatic protest. This particular vessel sails upriver near Puerto Iguazú in Misiones, but now it was diverted to the coast of Corrientes, it was explained.
Corrientes Governor Gustavo Valdés denounced on Tuesday an incident with members of the Paraguayan Navy in the Paraná River who, he said, "intimidated fishermen from Corrientes in Argentine waters", and considered the fact as "an aggression against Argentine sovereignty".
He also announced that a formal complaint will be made and that he had spoken about the issue with President Alberto Fernández, Foreign Minister Santiago Cafiero, and Security Minister Aníbal Fernández, who had told him that action would be taken.
Valdés insisted the incident "worries us because it puts the navigability of the Paraná River at risk."
According to the Paraguayan Navy, "the navigation control procedure began on Sunday, June 25 at 13:30 at kilometer 1,446 of the central spillway, downstream of the Yacyretá hydroelectric dam, Paraguayan waters, where a small boat was spotted, with three people on board carrying out fishing activities, apparently in an irregular manner. Upon noticing the presence of the Prefectura de Ayolas personnel, the vessel began a hasty escape, and was subsequently caught at kilometer 1,442 called 'Punta Ñaro', in Paraguayan jurisdictional waters."
"The three citizens of Argentine nationality, when they were required to show the pertinent legal documentation, resisted the control in an arrogant manner, disrespecting the fluvial authority", indicated the Paraguayan Navy, which also specified that "they decided to flee again, taking on board the personnel of the Prefectura Naval de Ayolas, towards the Argentine coast".
"Immediately the personnel of the Prefectura Naval de Ayolas, as a consequence of the irregular act of the Argentinean citizens, proceeded to follow the vessel, with the intention of rescuing the Prefectura personnel. Once they reached the coast, they searched for the personnel and returned to Paraguayan waters with all the crew on board", added the communiqué.
"The procedure was carried out exclusively in Paraguayan jurisdictional waters, without the use of force, respecting at all times the jurisdictional limits, in addition to the existing agreements between the Paraguayan Naval Prefecture and the Argentine Naval Prefecture (Coast Guards)."