Chile takes on mediating role in Pacific Alliance crisis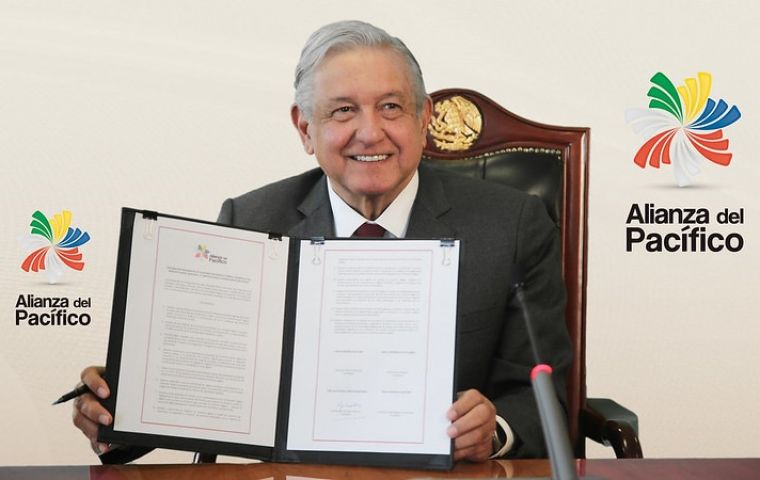 After Mexican President Andrés Manuel López Obrador (AMLO) failed to pass on the pro tempore presidency of the Pacific Alliance to Peru citing illegitimacy on the part of President Dina Boluarte's government, Chile announced Wednesday that it was assuming the position for a month, in a move to unblock such a transfer.
Chile's Foreign Minister Alberto van Klaveren said in a statement that his country recognizes "the right of Peru to exercise the 'pro tempore' presidency and in that spirit we have assumed the responsibility of acting as intermediaries to be able to solve this situation" within the bloc which also includes Colombia.
A meeting was held in Santiago on Wednesday to seek a solution to the conflict. In addition to Van Klaveren, the meeting was attended by the Mexican ambassador to Chile and future Foreign Minister Alicia Bárcena; the Peruvian Chargé d'Affaires in Chile, Renzo Villa; the Colombian Chargé d'Affaires in Chile, René Correa, and the Chilean Undersecretary of International Economic Relations, Claudia Sanhueza.
Van Klaveren said that the four countries "remain equally committed to the future of the Alliance and we believe that we can indeed continue to move forward to achieve the free circulation of goods, services, capital, and people".
Chile will work for 30 days to reactivate the technical work in the more than 30 working groups, committees, and subcommittees that the Pacific Alliance deals with, said Van Klaveren.
He explained that it will also seek to resume the updating of the Additional Protocol with the addition of two chapters on Gender and Trade and SMEs (small and medium-sized enterprises), as well as to continue implementing the roadmaps on Gender, Plastics and the regional digital market, and to activate the international agenda of the Pacific Alliance.
(Source: Xinhua)