Portuguese President wants EU-Mercosur deal ratified this year
Thursday, June 29th 2023 - 10:42 UTC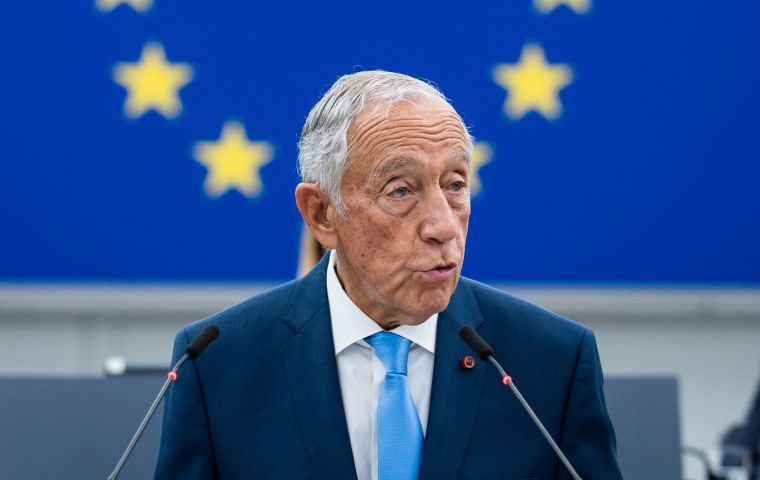 Portugal's President Marcelo Rebelo de Sousa said Wednesday it was essential that an agreement between Mercosur and the European Union (EU) "be concluded as soon as possible," Agencia Brasil reported. Rebelo made those remarks during a forum in Lisbon which was also attended by Brazilian Vice President Geraldo Alckmin, who is also the South American country's Minister of Development, Industry, Commerce, and Services.
"It is fundamental that an agreement be concluded between the European Union and Mercosur, and that it be concluded as soon as possible. If feasible, during the Spanish presidency of the European Union by the end of the year," Rebelo insisted during the closing ceremony of the 11th Lisbon Legal Forum, in the Portuguese capital.
According to the Portuguese president, the European Union will lose the opportunity to play a "global role in the dialogue between the great powers of the world" if it maintains the tendency to restrict its partnerships.
"If the European Union loses the opportunity, either because of a country's blindness or for conjunctural reasons, it will lose the opportunity to play a global role in the dialogue between the great powers of the world," Rebelo argued.
In Rebelo's view, this loss of political space in the European bloc will be even more evident if it does not also establish a partnership with the African continent. If this happens, he added, "only the United States and China will be left. This is bad for us: for Brazil, for Portugal, for the world that Brazil leads, and for the European Union that Portugal is part of."
"The new digital powers are transnational and require transnational responses. If not possible, they require at least small national or continental responses. But, if possible, transnational responses," Rebelo insisted while stressing the importance of experts, politicians, and jurists discovering "formulas to respond to algorithms" to avoid risks to democracies.
"If we choose the path of democracy, we choose the path of the dignity of the person; of the rights and the differences between people; of pluralism, dialogue, and tolerance. That means safeguarding this set of values as quickly and as widely as possible," added the Portuguese leader as he criticized the power that "the owners of the digital" hold over information that is not always true but is disseminated through social networks.
Rebelo also pointed out the difficulty we have with the "financial powers that, a few years ago, caused the financial crisis, when the real economy was converted into a financial economy, and financial power began to determine the real economy."
Alckmin replied that "We have the challenges of the world ahead of the digital world, and there, digital governance can and must allow freedom of the press and freedom of expression. But at the same time, it needs to avoid fake news, disinformation, [and] insult, as well as establishing the rules for this new moment that the world will live."
(Source: Agencia Brasil)