Chile toughens migration controls
Friday, July 7th 2023 - 10:27 UTC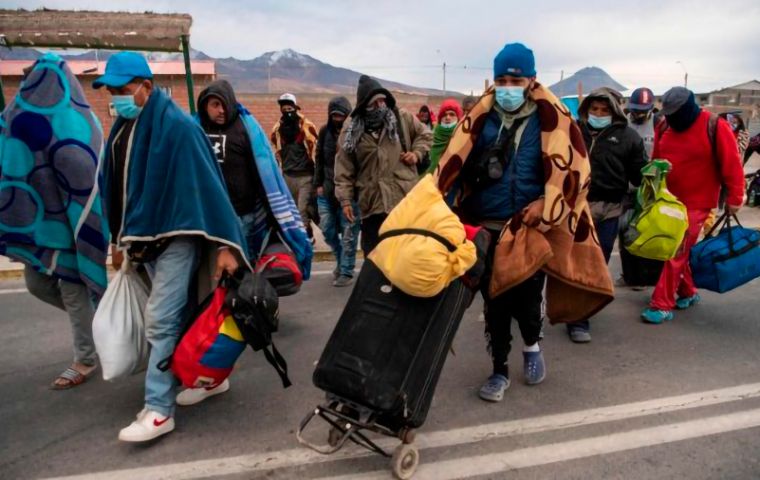 The Chilean government of President Gabriel Boric Font Thursday announced the creation of a committee to handle the expulsion of irregular migrants and develop a biometric registry of foreigners, it was reported in Santiago. The measure seeks to control irregular entries, such as those occurring at the northern border with Peru, of mostly Venezuelan people.
The committee shall enforce an "orderly, regular and safe migration policy" and will be formed by the Undersecretary of the Interior, the Undersecretary of Justice, the Undersecretary of Foreign Affairs, the National Migration Service, the Investigation Police (PDI), the Gendarmerie and the Civil Registry, it was explained.
The migratory crisis in northern Chile left hundreds of people stranded at the border a few months ago seeking to return to their countries of origin due to the hardening of the laws for those who are in Chile illegally.
Under this National Policy on Migration and Foreigners, the Ministry of the Interior will coordinate the immediate implementation of 28 measures during 2023, including the creation of an "Inter-Institutional Committee", which will expedite and materialize administrative and judicial expulsions pending since 2013.
In the Government's quest to expedite sanctions and expulsions, Undersecretary of the Interior, Manuel Monsalve pointed out that the Chilean Congress has already approved the bill that will facilitate the notification stage for people to be deported.
Monsalve also explained that the new notification mechanism by registered letter and email will allow the "Chilean State to initiate the expulsion process, shortening the terms in a very important demand."
"This bill, which has been approved and the President will sign it in the next few days, will allow the State to be much more efficient in this task", Monsalve underlined.
Chile's National Migration Service will also implement the biometric registration of foreigners, so that "people present in the national territory to have an identity, through photography and fingerprinting," Monsalve said.
"Migration is among the main concerns of Chilean men and women and President Gabriel Boric [is] committed to carrying out an orderly, regular, and safe migration policy, and within the framework of that mandate we are fulfilling the commitments," he added.
This new policy was created under ten axes, which "include regular migration, security, and border control, the fight against organized crime, the contribution to the economic and productive development of the country, family reunification, the integration of migrants and the promotion of their rights, the protection of vulnerable groups, the protection of Chileans abroad and international collaboration," he explained.