Paraguayan minister wants a wall bordering Argentina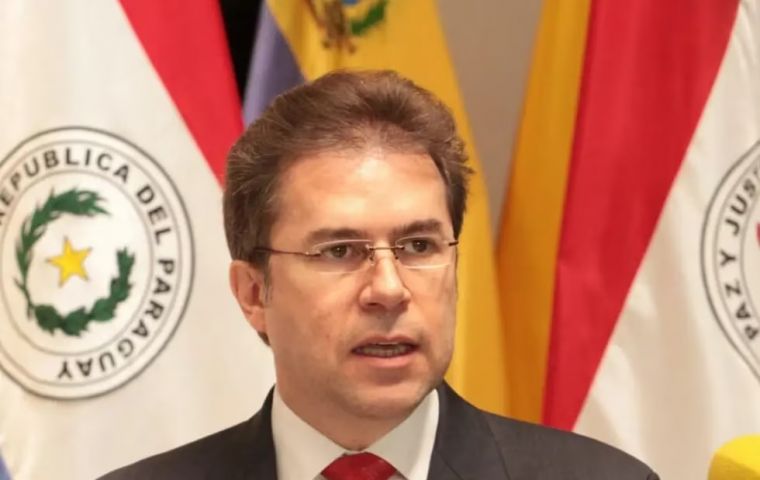 Paraguay's Minister of Industry and Commerce Luis Castiglioni Monday said he would like to see a wall across the border between his country and Argentina. He added the idea was inspired by former US President Donald Trump's plan to build such a structure con control illegal immigration from Mexico.
"I would like to build a wall on the border with Argentina, as Mr. Trump had proposed with Mexico (...) in the face of the impotence he had of the passage of illegal migrants," Castiglioni said while addressing the issue of smuggling. He also underlined Argentina's "macroeconomic policies totally differentiated and uncoordinated from us and with the unfortunate situation -critical, chronic- makes us suffer to all bordering countries."
"I always say this: the truth is that I would like to build a great wall along the Argentine border because it is really very difficult to fight against a scourge when the incentives are so great from the economic point of view," he stressed during the Expo 2023 in the city of Mariano Roque Alonso.
He added that smuggling had grown in the last few months due to Argentina's situation.
Along the same lines, Industrial Union of Paraguay (UIP) head Enrique Duarte asked the government of President Mario Abdo Benítez to take measures to stop smuggling: "Smugglers and money launderers cannot continue to walk freely in the streets. The State has urgent matters to deal with."
Argentina's Ambassador to Asunción Domingo Peppo replied through his Twitter account that these are times to "build more bridges" and pointed out that "I am surprised and regret the expressions of Minister Luis Castiglioni of the Paraguayan Ministry of Commerce about building a wall between Argentina and Paraguay."
"On the contrary, our peoples are brothers and seek to be increasingly closer and connected, we must build more bridges, not walls. Let us not forget the experience of the pandemic in which for a period of time we were closed and the request for the opening of borders became a plea, because of the economic damage it generated to the border towns of Paraguay," Peppo recalled.