Peru celebrates Independence Day with a new round of violent protests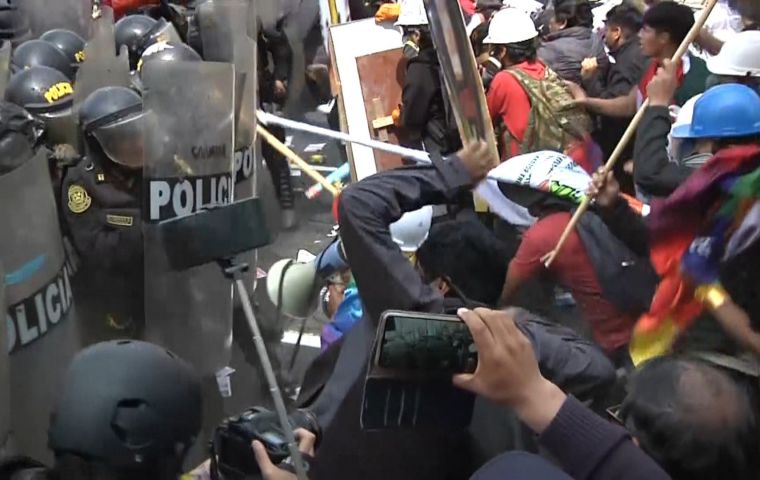 Last Friday, Peru's Independence Day, President Dina Boluarte called for a "great national reconciliation" in the wake of fresh outbursts of violent protests. In her state of the Nation speech before congress, the president also appealed for legislative powers to be extended to the executive branch for 120 days, in an effort to curtail crime and violence among other issues.
"Peru needs to face — with more strength and efficiency — delinquency and crime," said the president who insisted "we assumed the government in the midst of one of the worst political, social and criminal crises that our country has experienced".
As she delivered her three hour speech demonstrators faced tear gas on the streets near congress in the heart of the capital, Lima.
Since taking office in December, Boluarte has faced intense protest, with calls for her resignation, the dissolution of Congress and early elections to be scheduled. In response, security forces have attempted to tamp down the demonstrations, in some cases using live ammunition. Over 60 people have died in the clashes, with human rights organizations warning that some deaths could be considered "extrajudicial executions".
But despite protests and strong security forces response president Boluarte was also conciliatory, and addressing the families of those killed said, "with deep and painful consternation, I ask for forgiveness on behalf of the state."
Boluarte has previously alleged criminals and "terrorists" had stoked violence in the protests and that the demonstrations were a "threat to democracy and institutions".
Both Boluarte and the opposition-led Congress have faced dismal approval ratings since the protests first broke out, following the December 7 removal of former constitutional president Pedro Castillo. A peasants' union leader, Castillo was facing his third impeachment hearing when he attempted to dissolve Congress, a move some denounced as a coup. By the day's end, Castillo was removed from office and placed in custody on charges of "rebellion"
But the discredit of the political system and mainly the political class, significantly corrupt, is so severe and extended that the right and left in Congress, have agreed to support Boluarte's extra powers to prevent elections from happening until 2026, when the next general election.
All this despite a poll in July from the Institute of Peruvian Studies showed 75% of Peruvians want Boluarte to resign, with 80% approve early elections.