Pacific Alliance: Peru takes over pro tempore presidency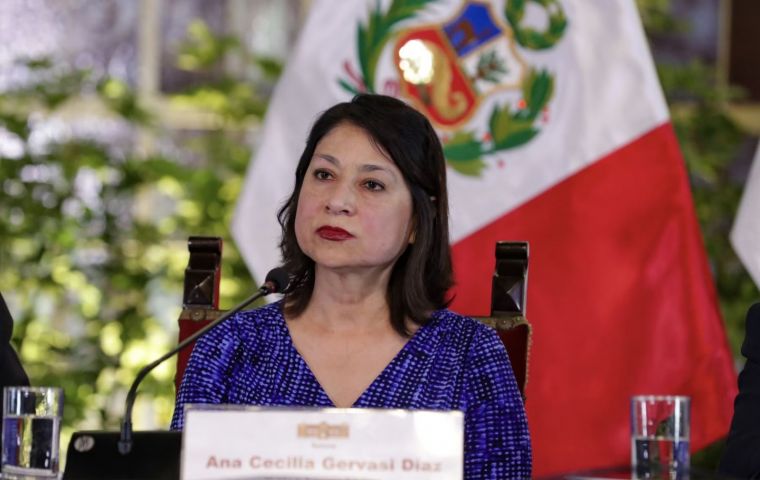 During a ceremony held Tuesday in Santiago, Peruvian Foreign Minister Ana Cecilia Gervasi received the pro tempore presidency of the Pacific Alliance from her Chilean counterpart Alberto van Klaveren, thus bringing to an end the controversy sparked when Mexican President Andrés Manuel López Obrador (AMLO) refused to acknowledge Dina Boluarte as the legitimate head of state following Pedro Castillo Terrones' impeachment on Dec. 7 last.
Chile had taken over the bloc's presidency for a month in a move to unblock the ongoing conflict in which AMLO was also backed by the Colombian government. The alliance is formed by Peru, Chile, Colombia, and Mexico.
Van Klaveren insisted the Pacific Alliance has been "a real contribution to regional prosperity and to the challenges we face in Latin America, by balancing economic, social and environmental development in an equitable and sustainable manner."
"We have an integration scheme that aims at the free movement of goods, capital, people, and merchandise among the four countries; it is a scheme that has aroused the interest of the international community, and proof of this are the 70 countries that operate as observers," he also stressed.
Tuesday's ceremony "means the renewal of the commitment of the members of the bloc with a regional integration to face shared challenges," Gervasi also pointed out while calling for Costa Rica and Ecuador to join the group. Since its beginnings in 2011, the Pacific Alliance constituted "an integration mechanism that was pragmatic, free of politicization," she added. "We hope that it will continue to be managed with that pragmatic sense that has made it one of the most successful integration mechanisms in Latin America," Gervasi went on.
It was also agreed Tuesday to resume negotiations on updating the Additional Protocol with the addition of two chapters on Gender and Trade and SMEs (small and medium-sized enterprises).
In Lima, Prime Minister Alberto Otárola highlighted "the opportunity to relaunch and convert the alliance into a determining actor on the international scene." He also pledged to work "to resume the leadership of the Alliance for the benefit of four brotherly peoples." Peru has already held the pro tempore presidency of the bloc in 2015-16 and 2018-19.
Chile, Colombia, Mexico, and Peru combined account for more than 40% of Latin America's gross domestic product and receive 38% of the region's foreign direct investment. The bloc represents a population of nearly 233 million.