Largest cruise vessel ever, five times the Titanic, will see its maiden voyage next January
Friday, August 11th 2023 - 09:28 UTC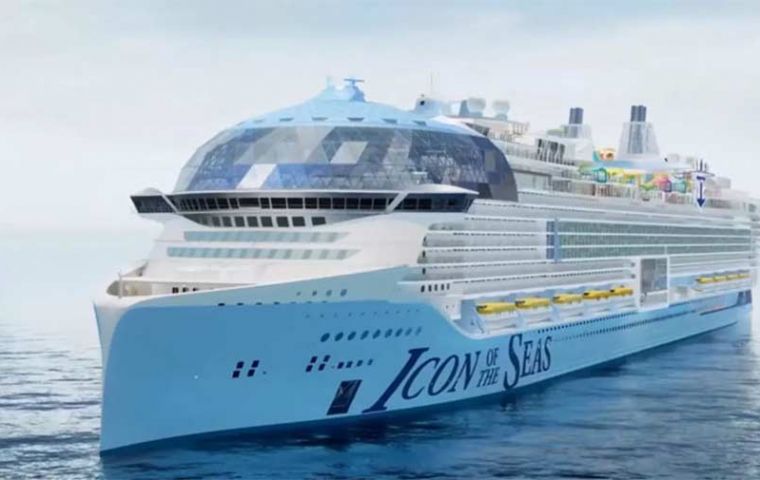 As the cruise industry is again picking up with clients returning, a Finnish shipyard is putting the final touches on what will be the world's largest cruise ship. According to Travel and Tour World, Royal Caribbean's luxurious new vessel 'Icon of the Seas' is nearing completion in the Turku shipyard on Finland's southwestern coast, its maiden voyage scheduled for January 2024.
This ship is as of today, as far as we are aware of, the biggest cruise ship in the world, said Tim Meyer, CEO of shipbuilder Meyer Turku tasked with the construction.
While some have labeled the colossal structure a "monstrosity", citing its vast climate footprint, others are in awe of the sophisticated engineering integrated into this floating holiday destination and flocking to buy tickets.
Resembling a village more than a ship, the mammoth vessel boasts colorful water parks, more than 20 decks and can carry nearly 10,000 people.
A distinct feature of the new ship, which went into construction in 2021 and entered sea trials in June, is a gigantic glass dome that covers part of its front section.
The pandemic dealt a heavy blow to the industry, raising questions about whether it would ever recover. Cruise companies are now seeing customers return.
The Cruise Lines International Association has predicted that passenger volume will surpass pre-pandemic levels with 31.5 million passengers in 2023.
After the restrictions are gone and the situation has eased up, we are seeing that the market is coming back very strong, Meyer said.
With a gross tonnage of 250,800 – five times the size of the Titanic – Icon of the Seas will snatch the title of the world's largest cruise ship from Royal Caribbean's current flagship, Wonder of the Seas.
Meyer Turku also has two more similar sized Icon-class vessels in their order books.
With its seven pools, a park, waterslides, shopping promenades, ice skating rink and "more venues than any other ship", larger vessels like the Icon of the Seas also offer more options for spending money on board.
The extra income is welcomed by the cruise lines in order to survive COVID-19 lockdowns the cruise lines "had to take a lot of credit" they now have to pay back.