Chilean president and government ratings continue to slide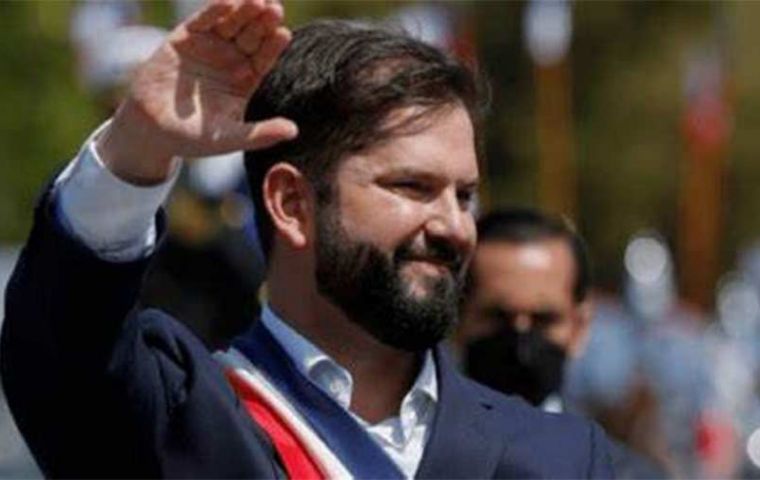 Chile's Cadem pollster revealed that the approval rating of President Gabriel Boric has continued to slide and now stands at 28%, while disapproval of his government is up another two points and has reached 66%.
Likewise Cadem showed that 61% of people interviewed said they "were worse off than ten years ago" while 23% considered they "were better off" and 16% were neutral, unchanged, nor better nor worse.
As to recent events tarnishing the presidential figure, the opinion poll points to Giorgio Jackson, a close associate and advisor of Boric, (who some considered the brains of the current administration) believed to have been involved in a controversial public housing distribution among militants, but who was forced to resign, and an agreement on a fiscal reform the administration is trying to negotiate with the opposition in Congress, but which the business and industry communities are not convinced of.
Asked about the outstanding events of the last decade, Cadem showed that 40% of Chileans point to the 2019 social uprising, and rioting, which opened the way for a left wing (inexperienced) coalition gaining office in 2021, with Boric as Chile's youngest president ever. Second comes the Covid 19 pandemic, 23%, and 22%, the surge of immigration, mainly from Venezuela, Cuba and Peru.
As to living conditions in the next ten years, 37% feel the situation is going to be worse, 31% better and another 31%, the same or unchanged. But 49% believe that in the next decade Chile is to become a more tolerant society regarding diversity, 37% that education conditions will improve and so will the international standing of Chile, 27%.

However when it comes to crime and burglary, 64% said it will be worse, 55% believe violence will increase, the quality of politics worsen, 51%, and so will poverty and inequality, 35%.