P&O cruise Britannia caught in a storm and involved in a collision in Mallorca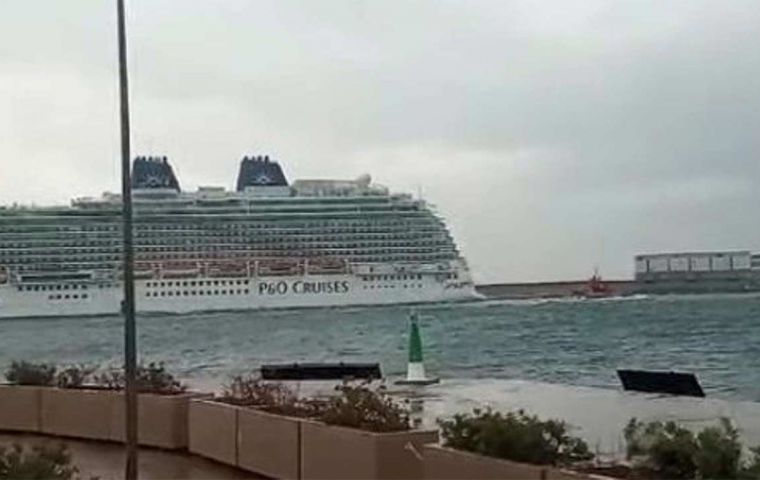 The P&O Cruises ship Britannia, based in Southampton, collided with a freight vessel during a storm in Mallorca, Spain, after it broke loose from its mooring. A small number of people are being cared for onboard after sustaining minor injuries, P&O said.
Ship is expected to remain in Mallorca to allow for technical assessment while the captain said there was no structural compromise to the vessel that in the midst of the storm, "floated away like a paper boat." People aboard the ship recorded videos and images of the incident.
The "unexpected drama" happened at the same time as an emergency drill, a passenger said
Passenger Gavin McCoy said the "unexpected drama" happened while "the local fire service and crew were carrying out an emergency drill".
He said that at about 11:00 BST "a sudden rain and wind storm ripped us away from our dockside moorings, breaking tethering lines, water hoses, and causing the walkway to fall into the sea".
He said he was "sitting by the window in the coffee shop, and the first thing we saw were the blue dockside reception marquee tents blowing through the air," Mr. McCoy added.
"We've drifted well away from the berth and collided into a nearby freight/cargo ship."
However passengers praised the actions of the staff and said there were regular updates from the ship's captain. But some families had put life jackets on their children.
The storm is likely to be one of the severe thunderstorms, affecting the Balearic Islands.
Torrential outbreaks of rain and gusts of up to 120km per hour have hit the islands. The conditions led to the cancellation of over 20 flights, Spain's airport operator said.
Weather warnings for parts of the archipelago have been extended until Monday.
The captain informed passengers that "there's no structural compromise, but deck five has sustained a small amount of damage" on the PA system.
P&O Cruises spokesperson said they were "aware of an incident involving Britannia on Sunday morning" and were "working to assess the situation".
Passengers will have access to onboard entertainment and activities while technical teams make an assessment of the ship, P&O said.
The cruise started in Southampton and is due back on 1 September.