US State of Florida braces for Hurricane Idalia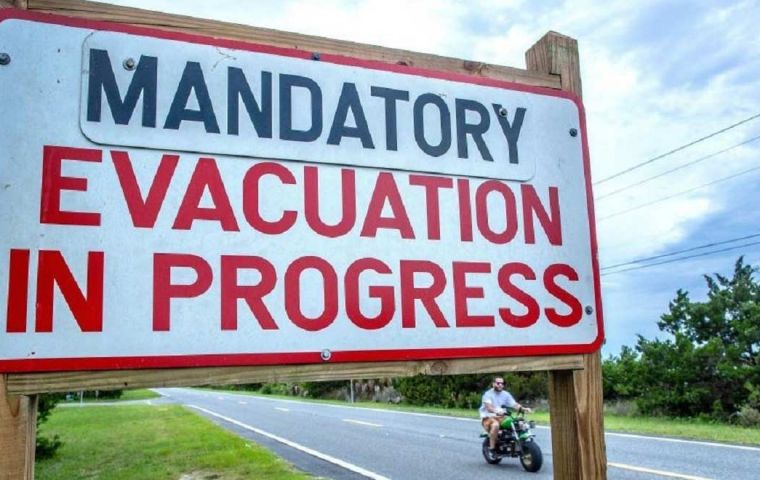 Some 1.6 million people in the US State of Florida were to evacuate their homes in the coming hours as Hurricane Idalia has been forecast to make landfall on the coast of the Gulf of Mexico in the northwest of the state with Category 3 winds (111 mph or 178 kph) Wednesday.
The National Hurricane Center (NHC) said it expected Idalia to further strengthen to a Category 4 hurricane.
Authorities ordered mandatory evacuations in eight counties in the storm's path, while people in 14 other counties were advised to leave while there was still time.
"If you are under an evacuation order, now is the time to leave," Florida Gov. Ron DeSantis warned Tuesday. "You still have a couple of hours to pack up and get on the road before conditions deteriorate, but by late tonight you will need to hunker down and stay in place," DeSantis said. "If you choose to stay, first responders will not be able to get to you until after the storm has passed," he also pointed out. "This storm is going to hit tomorrow morning, you will start seeing effects in parts of the state later today."
DeSantis declared a state of emergency in 46 of Florida's 67 counties. "When there is a storm of this nature we say run from the water, hide from the wind," De Santis also explained. The Governor has suspended all tolls in the evacuation zones, as Uber announced it would provide free trips to state-approved evacuation centers.
About 5,500 National Guard troops have been activated in preparation for rescue and repair efforts, and over 30,000 utility workers are standing by as destructive winds affect areas in Florida and up into neighboring Georgia, with flooding rains also hitting North Carolina and South Carolina through Thursday. In South Carolina, Governor Roy Cooper declared a state of emergency for the hurricane.
Georgia Gov. Brian Kemp declared a state of emergency Tuesday in anticipation of heavy winds, rain, flash flooding, and power outages in the south and coastal regions of the state. The National Weather Service warns tornadoes are also possible. "We are taking every precaution ahead of Hurricane Idalia's landfall and I am taking this additional executive action to ensure state assets are ready to respond," Kemp said Tuesday.
Idalia was located Tuesday south-southwest of Tampa, where international airports remain closed, while Amtrak has canceled or modified more than a dozen railroad services statewide. The entire coastal strip of Georgia and much of the South Carolina coast was under a tropical storm warning Tuesday.
In Florida, residents rushed preparations with memories of Hurricane Ian, which less than a year ago made landfall with 155 mph (250 km/h) winds and a storm surge of 17 to 20 feet (5.1 to 6 meters). In this state alone, Ian killed nearly 150 people and destroyed or caused serious damage to at least 20,000 homes and buildings.
The eye of Tropical Storm Idalia made landfall on Monday at Cape San Antonio, the westernmost tip of Cuba, and has knocked out power to almost 60% of homes and buildings in Pinar del Río province before strengthening to a Category 2 hurricane Tuesday. It is expected to make landfall as a Category 4 hurricane at some point.